<LINK REL="SHORTCUT ICON" HREF="http://www.sylviahalpern.com/public_html/favicon.ico">
My last ride in Texas - wow was I excited. It's been a month of cycling through mostly arid, desolate and parched land. It was time for a change. Texas roads have been excellent and I've met some wonderful people. I wish more of the state was as beautiful as East Texas. I was ready for a new state.
I took off from the Gateway Motel at my usual 9 am. The fog had lifted and, although overcast, it was already warm. Looking at the map I saw I could take country road 565 to the highway. The scenery was beautiful but the road was in awful need of repair. A few dogs gave half-hearted attempts at chase. Country road 565 only went for a couple of miles and then I was on Hwy 363 into Bleakwood. This Hwy was a quiet 2 lane road with very little traffic. It was so warm I was cycling without socks or a jacket. This road meandered through farmland until I took Hwy 190 into Bon Wier - my last town in Texas. The only sign with the town name I could find was giving directions to a church. Hwy 190 grew to 4 lanes with a beautiful wide shoulder. From here I crossed the Sabine River into Beauregard Parish. Welcome to Louisiana.
After snapping a few pictures I carried on and immediately noticed that the road surface, although good, wasn't as nice as Texas. I made my way into Merryville which is a small town at the edge of a large managed forest. Being Sunday there weren't any logging trucks out but the shoulder was littered with bark. I continued on to De Ridder my destination for the day.
Last night I had called a number of motels to get a booking. For some unknown reason, none of the motels could tell me they had a vacancy or even how much a room cost. America's Best Value Inn quoted me $75 a night which didn't sound like such a great value to me. I checked the weather report and the low was forecast for 60 degrees. I could camp in that. The Pine Grove Estate RV Park website showed they were even a member of Adventure Cycling. That was the clincher. Tonight I camp.
Kirbyville, TX to DeRidder, LA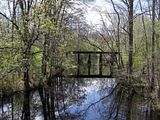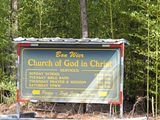 Country road leaving Kirbyville
Bon Wier - last town in Texas.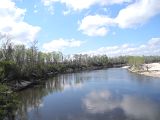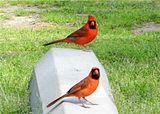 First town in Louisiana. Better finish that open bottle of whiskey before I get to town.
Crossing the Sabine River.
Cardinals came for a visit at my campsite.