<LINK REL="SHORTCUT ICON" HREF="http://www.sylviahalpern.com/public_html/favicon.ico">
It seems that the Adventure Cycling Southern tier route just isn't working for me. I was excited to start a new map but after looking at today's ride I discovered I would have to camp. Blah! I have everything for camping with me but the temperature is going to get down in the 30's tonight and that is simply too much suffering.
The ACA route goes through the Sam Houston National forest which I'm sure is really beautiful. I changed the route and decided to stay on Hwy 105. There was some traffic getting out of Navasota where I took a frontage road along side Hwy 6. Once I got out of town Hwy 105 had a glorious shoulder. The skies were grey as I started out with a light wind from the south. There were many more wildflowers out today. Maybe the little rain on Monday was enough to get the wildflower show started. The wildflowers are so important to this area it is illegal to mow until the end of April. The picture at the top of the page comes from Stoneham, the first town on my route. Who sticks a sign like that in front of their store? I continued on another 6 miles to Plantersville for a cup of coffee. The Relay Station offers a 85 oz (5.3 lb) steak for free if you can finish it. There were lots of pictures of students from nearby Texas A&M hopelessly trying to clean their plates. They also had a buffet salad bar displayed in a bathtub. Oy! Maybe that's why I was the only patron in the restaurant.
From here I rode passed lots of horse farms. I made my way to Montgomery and stopped at the high school for lunch. It is spring break so no one was around. I was able to use the bathroom and plug in while I ate. The population sign said less than 800 and I was surprised to find such a modern looking facility.
A hour later I was on my way riding along Lake Conroe and April Sound. The skies had cleared and the temperatures got up to the high 70's. Lake Conroe appears to be very large with lots of boating activity. Hwy 105 went from 2 to 3 lanes to accommodate more traffic. The shoulder remained very wide with Share the Road signs about every 2 miles. There was one strip mall after another all the way into Conroe. Conroe is a suburban city just 40 miles to the north of Houston. I stopped at my first Kroger of the trip to get supplies. It wasn't much further to a Super 8 motel where I got checked in for $48. Myrtle is being stored in the lobby where she will be under the watchful eyes of the night manager.
One reason for coming to this town is that tomorrow I can go to a Weight Watchers meeting. Thursday is the only day they have meetings so the timing is excellent.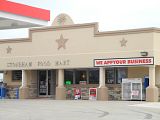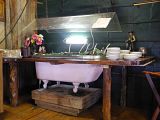 Bathtub salad bar in Plantersville.