<LINK REL="SHORTCUT ICON" HREF="http://www.sylviahalpern.com/public_html/favicon.ico">
I set the GPS to guide me to the Weight Watchers meeting out by the airport. The GPS put me through different neighborhoods from one side of the railroad tracks to the other. Then I went through a nice park. There was a strong middle-class neighborhood that had "Pray for our Nation" signs on every other lawn. It was an entertaining 4 mile ride. The meeting was at the convention center and started at 10 am. I met lots of nice people and everyone had questions about what I was doing. Unfortunately, I gained 1.4 lbs. It seems that I lose every other week so I'm looking forward to the next meeting.
I left Conroe after 11 am getting back on Hwy 105. It was already quite warm with a strong wind from the south. The shoulder was wide and smooth. There were more wildflowers today in orange, yellow, blue and purple. The first town I came to had the unlikely name of Cut and Shoot with a population of 1,100. I stopped at a produce stand and found a framed article explaining the origin of the town's name. A crazy religious argument is at the heart of the issue. I took a picture so anyone can get educated. There was a nice picnic table and I sat with Jerry, the owner, yakking and eating lunch. I continued on through a town called Security. There were lots of empty Flea Markets. The Pioneer Flea Market was designed to look like an old western town with a saloon, hotel, opery and pony express office. It was fun riding around with no one there. I also passed lots of churches with messages of fire and brimstone on the highway. Yipes!
The temperature really started to rise. I think it got up to 81 degrees today. Luckily, the ride was short and I was checked into another Super 8 by 2 pm. I booked this hotel last night because I've discovered rates are cheaper online. When I book online I always try for the AARP discount. So far, it's worked and no one has ever asked for the card - until today. Oooppsss! The owner still gave me a 10% discount. Since I wanted the 20% discount I went online to become an AARP member. This is a big day. The hotel let me print out my new AARP membership card. Good thing I got to Cleveland early. Happy St Patty's day.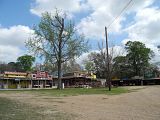 Turtle sunning in a pond.
Purple wildflowers today.
It's official! I will not be denied hotel discounts any longer.