<LINK REL="SHORTCUT ICON" HREF="http://www.sylviahalpern.com/public_html/favicon.ico">
The temperature over night was warm enough that it was uncomfortable for sleeping. There was a very noisy frog hindering sleep too. It had also rained a little over night. The Peaceful Pines campground has a kitchen which I used to make breakfast. I still haven't found camp fuel so the kitchen really came in handy. Dave and I consulted the map and discovered we are both on the same route. We decided to ride on together. Dave has maps for the ACA Great Rivers route and the stretch between St. Francisville and Natchez is 80 miles without accommodation. Neither of wanted to ride that far in a day. Dave called the police station in Centreville which is about 30 miles to find out if we could set up tents anywhere in town. This was the only town of any size on the route. The police station was agreeable to letting us stay. Good call Dave!
With that reservation, we took off around 9 am headed to Jackson. The tree lined route was beautiful and it was already quite warm. Jackson is a really cute town. There was an antique show starting up and the place was busy. We continued on to Norwood where we stopped for lunch at a convenience store. Dave and been here before and was looking forward to a deep fried chicken kabob. From here it was just a few miles to the border with Mississippi. Woohoo - a new state! We spent some time snapping pictures and then rode the short distance to Centreville. There was a nice tailwind blowing which made the rolling route much easier. It was getting hot and we were both happy to stop.
The receptionist at the police station seemed to be expecting us. There is a community center at the police station and we were allowed to take our stuff and bikes inside. The room was so large we asked if we could sleep in there too. That request was denied. It was early afternoon and we walked around the shabby town and headed to the hospital in search of wifi. Again, I didn't have phone service. It's been a few days since I've been able to use my Verizon service. This was truly a sorry rundown looking hospital. Dave and I sat in the emergency waiting room using the open wifi. Facebook was blocked. The signal was really weak and it took a long time to do anything. After a couple hours we had enough. We stopped at the store and then went back to the police station. The office person let us use the microwave to make dinner which helped. It was a really warm day. After the sun went down the temperature cooled enough to set up the tents. I never expected March to be so warm.
St. Francisville to Centreville, MS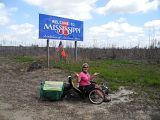 Dave the Slug aka Captain America
Tree lined route to Jackson.
Glencoe Plantation circa 1870.