<LINK REL="SHORTCUT ICON" HREF="http://www.sylviahalpern.com/public_html/favicon.ico">
Just when I was relaxing and making plans for a rest day the phone rang. It was Carol, the Warm Showers host in Carmine, inviting me to stay. I suppose I could have postponed the visit to rest up but I didn't. It was 7:30 in the morning already and I hurriedly got packed up and on the road. The weather was beautiful again but windy today. After checking the Adventure Cycling route I made another change. It hardy seems worth the money I've spent on these maps considering how little of the route I've ridden. The ACA map showed a 65 mile ride and I decided to take a more direct route on Hwy 290. This would shave 20 miles off the ride. I was still so tired the idea of doing 65 miles didn't really appeal to me.
Bastrop is a cute town and I rode through it getting to Highway 21. The road had more traffic than I hoped for but there were 2 lanes. No one seemed to mind that they had to drive around me. The ride was beautiful and very hilly through a state park. I stopped in Paige for coffee just after taking the turn-off for Hwy 290. This road was much busier and I worried that I had made a terrible mistake. There was a lot of semi trucks that I expected would give me grief. But, again, no one seemed to mind that I was there. And this is Texas? I would not recommend taking this road. The scenery was nice but with all the traffic I couldn't really enjoy it.
Carol called as I was approaching Giddings and gave me directions to her place. I stopped at another nice market in town before continuing on 290. From here there was a wonderful shoulder for the 7 miles where I turned off on Hwy 180. Now I was in the country. I took this 5 miles to Country Road 131 which was even quieter. There were so many birds. It was around 4:30 and I guess they were getting ready to roost for the night. A flock of a few thousand got startled when I rode passed and rose in the air all together. It was quite a sight. I got some pictures but couldn't capture the whole scene. They kept rising out of the grass as a flock getting lower and lower until they finally settled down. I probably watched them for 20 minutes.
It wasn't much farther to the turn off to Carol's house. There was a dirt road for a couple of miles that I had to take extra slow. I was planning on calling Carol when I got close but my phone service died. I rode into a property expecting to ask if they knew where Carol's place was and it was Carol's place. That was very nice. She met me outside welcoming me in.
Carol is another Warm Showers gem. She offers cyclists a barn that she converted to living quarters. There's a kitchen, bathroom and 8 beds all in one big room. It felt like a bunkhouse. She has been doing this for many years and really enjoys having cyclists stay. Carol even made me a wonderful dinner with vegetables from a local coop farm she helps at. We yakked away a few hours talking about travel. Carol has been everywhere and is really interesting. I suspect she will become as famous as the 'Cookie Lady' on the trans-am route.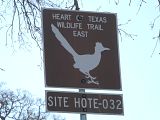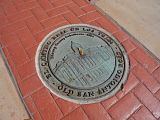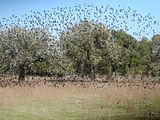 Leaving Bastrop - El Camino Real de los Tejas.
Birds flew up from the grass as I passed.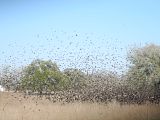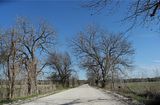 More birds flying out of the grass