<LINK REL="SHORTCUT ICON" HREF="http://www.sylviahalpern.com/public_html/favicon.ico">
I got up extra early so I could make an 8 am Weight Watchers meeting. I googled for directions and pedaled the 2 miles all packed up. The meeting was in a mall and I had to ride around the complex before finding it. After making radical changes to my eating 10 days ago I was apprehensive if I would see desired changes on the scale. Turns out I lost 2.8 pounds for the week and over 4 lbs since the change. This is huge. For there to be any weight loss is very positive indeed. Wouldn't it be amazing if the acupuncture doctor is right and my body can't process meat and dairy products. I told one of the meeting managers about my ride and she had me talk to the group of 30 people attending. I met some very nice people. Everyone was very excited and supportive. They loved that I was going to attend Weight Watchers meetings all across the country. I'll keep up the eating routine and see were it leads.
A small group of people followed me out to look at Myrtle and gave me a nice send off. I wanted to find a market on my way out of town to replenish my fruit supplies. I wish I had asked at the meeting for directions because I couldn't find one. I ended up at an AM/PM gas market. It was expensive but had what I needed. Rancho Cucamonga is a good size town and seems to be a big distribution center for trucks and trains. Being Sunday there wasn't much traffic and the road was freshly paved with a large shoulder. Temperatures were in the mid 70's with very little wind. The GPS plotted a route through neighborhoods that kept me off the main streets. The ride was quiet but there were so many stop signs it was slow going. After about 18 miles I made my way into Colton. I stopped at a mexican market for avocados and then a fast food restaurant to use the bathroom and an outside table. I fixed my own lunch with the company of a young guy who was hitting up drive-thru drivers for beer money. I offered him an orange but that didn't interest him. After lunch I continued on past orange groves on busier streets into Redlands. As the temperature rose closer to 80 I was really happy to be doing this ride in January. Most of the year this area is stiflingly hot.
Redlands is a nice town and I enjoyed riding through the downtown. Then the GPS routed me on beautiful Cypress St that is lined with palm trees. This street had a gentle 5% grade for a couple of miles. Then I got a flat in the right front tire. I have always used Marathon Plus tires and typically I've had a flat a year. This year I went with a new Marathon - the Supreme. Supposedly it has the same puncture protection with less rolling resistance. I am a little alarmed to be getting a flat in these tires on my second day out. I found the thorn culprit and patched the tube. This was the first puncture for this tube that has been in service through SE Asia and down the Pacific Coast. These tires are much easier to change than the Pluses and I had the job done quickly. Many people stopped to ask if I needed help or a ride. Very nice. I continued on up the hill and discovered I had forgotten to turn on the GPS timer after lunch. The data will be missing 10 miles of the route today. (There will be a straight line on the map between where I turned it off and on again.) Then the gentle Cypress St. hill turned into a mountain climb. The last mile got up to 14% grade which had me really huffing and puffing. The views of the mountains were well worth it. From there it was a quick downhill to a busy and loud freeway frontage road into Calimesa. My GPS is the Garmin Edge 705. It has a lot of information available. I turned to the 'find lodging' option and had it route me to an America's Best Value Inn. $45 for a nice, clean room made me happy and I got checked in.
The Australian Open starts tonight and I'll be spending the evening eagerly watching the first round matches. Tomorrow I'll be in Palm Springs to relax and visit with friends for a few days.
Rancho Cucamonga to Calimesa
Beautiful roads most of the day
Mural depicting some oranges history
Mountain view from the top of a mountain climb
Veterans memorial in Redlands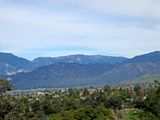 View from another direction