<LINK REL="SHORTCUT ICON" HREF="http://www.sylviahalpern.com/public_html/favicon.ico">
Oh my goodness the wind was howling this morning. I got going by 8:30 for what should have been a short 37 miles to Brady. The wind started out as a 20 mph headwind. It was so loud. I was very grateful for my e-assist. Except for the wind, the day was warm and sunny. The road continued to be in good shape with a wide shoulder. I know I'm headed to the hill country but the morning ride was fairly flat. My first stop was at a beautiful rest area that was sheltered from the wind. It is very nice to see big trees again. When I got back on the road the wind had shifted to my right side. It had also gotten stronger. The landscape was turning beautifully green with lots of knobby trees full of moss. The cows looked very happy to be eating such lush grass. My second stop was a mile off Highway 87 in the little town of Melvin. I pulled into Jacoby Feed and Seed. Their big claim is 'Home of Texas' best deer corn'. I'm sure it is something to be very proud of but I don't even know what deer corn is. I ordered a salad and coffee. The salad was exactly what I always expected I'd get in small town Texas. Iceberg lettuce with chopped pieces of tomato. Not much nutrition but everything else on the menu had meat in it. The cafe was nice and even had wifi. The area doesn't have any Verizon phone service so it was good to have wifi.
I continued on and the Cycle Analyst started showing negative watts again. It showed a regenerated amp before I noticed it. Just like the last time I unplugged and replugged. This time it showed 5 watts instead of 1. I went through the process again and it gave me the numbers I was hoping for. Maybe the Cycle Analyst needs to be reset occasionally? I'll ask around in Austin. Then I noticed that the innards of my light had fallen out. All I had was a hollow plastic shell plugged into the hub generator. I have no idea when that happened. The list of things to take care of in Austin is growing.
The road became a bit hillier but nothing uncomfortable. Pretty soon I was in Brady - the heart of Texas. Eden was the center of Texas which I thought was cool but, really, the heart of Texas is what I've wanted to see. It's another small town with no phone service. There are a few hotels and I got checked into the Days Inn for $49.90. I needed to make some calls and had to use Skype. Thanks goodness there was wifi.
And thanks goodness I could get out of the wind.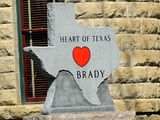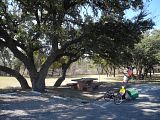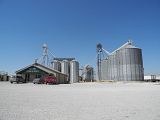 Lunch in Melvin. Home of Texas' best deer corn.