<LINK REL="SHORTCUT ICON" HREF="http://www.sylviahalpern.com/public_html/favicon.ico">
I had a really nice time with Steve and his wife Connie. They invited a bunch of neighbors over for a potluck lunch yesterday. Al fired up the grill and stir-fried a mountain of vegetables. Patty made a fabulous upside down peach/pineapple cake. Jonny and Louise brought over even more food. It was terrific and I felt very welcome.
I sat down with Steve and Al going over my route for today. Originally, I was going to ride to Brawley and then figure out how to get to Blythe. Brawley is where I would meet up with the Southern Tier bike route across the country. The first stretch between Brawley and Blythe is just under 100 miles. I have never ridden this far and really have no desire to do it now. My speed is right around 10 mph and that ride would take me over 10 hours. Yipes is right! Steve looked at the route and said he and his friends were going to Mexico tomorrow and could make a small route change to drop me at Ogilby Road on Hwy 78. Yippee! Steve and Al wanted to start out very early and discussed what needed to be done. It didn't take long to figure out a good solution for hauling Myrtle. I had been really worried about the ride to Blythe and after talking to these guys for a few minutes the problem was solved.
At 6:15 in the morning the guys knocked at my door and got me packed up. Connie and Patty were already in the car. We drove through Brawley and turned onto Hwy 78. We passed a very smelly feed lot and an enormous gold pit mine before entering the Algodones dunes. The wind was howling and sand was swirling. I was really happy not to be riding through this section. We went through the very small town of Glamis before climbing a pass over the Chocolate mountains. It wasn't long and we arrived at the drop point. The guys helped me put everything together and they all gave me a nice send off. I was on to Blythe and they were going to Mexico for the day. Boy am I grateful for their help - thanks guys!
Just after 8 am I started riding my first day on the Southern Tier route into a very strong headwind. There wasn't much of a shoulder but there wasn't much traffic either. It seemed that most trucks were headed to either the feed lot or the gold mine. The feed lot trucks were carrying very stinky cows and it took awhile for the smell to dissipate. If trucks came in both directions I pulled off the road. The road had lots of small steep rollers that had 8-14% grade but mostly the road went down to the Imperial Valley and the Colorado River.
The wind was so strong it pulled the top part of my flag off. I have no idea when it happened. I had pulled over to take a break and enjoy my first view of the Colorado. I like having the flag even if I'm not sure how helpful it is. I rode back a couple of miles but didn't find it. I couldn't believe how quiet it was riding with the wind instead of against it. Somewhere I'll find a replacement flag pole. It looks funny with just the bottom half of the pole sticking up from my neck rest.
Aside from the wind, I had a nice ride. After about 10 miles the shoulder widened and remained wide all the way into Blythe. I rode passed lots of farm land. This is the Imperial Valley and there were fields of broccoli, alfalfa, kale, spinach and lots of cotton that had been freshly harvested. Truckers gave me thumbs up and toot-toots. I could tell Myrtle had made the radio chatter which made me feel safer on the road. Coming into Blythe I found an America's Best Value hotel and got checked in for $55.
It feels great to be on the Southern Tier.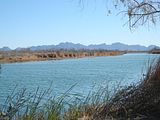 First sighting of the Colorado River
Desert ride to Palo Verde
Field of alfalfa with Chocolate Mountains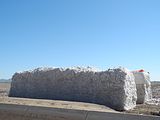 Lots of picked cotton ready for pick up.