<LINK REL="SHORTCUT ICON" HREF="http://www.sylviahalpern.com/public_html/favicon.ico">
The wind has been crazy strong and is expected to continue blowing for another few days. The winds were 50 mph yesterday and it was difficult to be out in. I was worried that today was going more of the same. This morning I started out at 8 and the wind was calm and from the north. It was really cold for the first hour. Today I was taking Highway 67 to Big Lake. This is another excellent road with a wide shoulder, smooth pavement and little traffic. The route was mostly a gently 1-2% uphill along a defunct rail line. I started out riding in the Pecos Valley with wind turbines atop plateaus in the distance. The valley was dotted with oil and gas wells. Sometimes the smells were seriously over powering. I also rode passed lots of dead and stinky skunks. As the day wore on the wind shifted from the north to the south and came at my side.
After 28 miles, I took a break in the small town of Rankin. There was a Mexican restaurant where I ordered lunch and charged my batteries. They didn't seem to know what to do when I asked if any dishes came without meat. Everything had meat. I asked a few times if I could have a burrito without meat before the woman said she could make one with beans and potatoes. They made the burrito with the same amount of beans and potatoes that a meat burrito would come with. It was skinny yet surprisingly tasty. Lots of people came in asking about Myrtle. I must have told the same story 6 times while waiting for the batteries to charge. Everyone was very enthusiastic and wished me well.
I continued on until a woman in a van pulled me over. She is in a wheel chair and had questions about the trike. I gave her my card and pointed her to online resources. She wrote down her name and address in case I needed anything. Her name was Rankin and her great grandfather had settled the town I had lunch in. Very interesting.
The rest of the afternoon was long as I rode passed very parched and brown landscapes. I was beginning to question my decision to get off the interstate. At least it was quieter. This area has some of the biggest oil wells in the country. One well is called the Permian Basin and produces 17% of the countries oil. The land is leased from the University of Texas giving it tremendous royalties that fund one of the biggest endowments in the country.
I found my way to Big Lake which I figured was on a lake but it's just another small stinky oil town. I found the Mustang Motel and got checked in for $50. I went to my room and found someone else's clothes in the closet and a suitcase open on the table. This was a first. The manager gave me another room and I moved over feeling less than confident about the professionalism of this business.
Tomorrow will be another long 70 mile day to San Angelo. The winds are expected to be dangerously strong on Sunday and Monday so it will be important to get to a bigger town to hole up in comfort for a few days.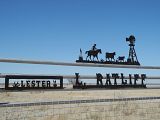 Made it to Big Lake which has no lake