<LINK REL="SHORTCUT ICON" HREF="http://www.sylviahalpern.com/public_html/favicon.ico">
Once again, I had a fantastic Warm Showers experience. Walt was a terrific host but I felt like 5 nights was pushing my welcome. He took a few pictures and gave me a nice send off.
On my way out of town I stopped at Easy Street recumbents again to get new fenders installed. Mike, the owner, was very generous opening up his shop extra early to accommodate me. He had to drill some holes to make the Planet Bike fenders work with the Greenspeed hardware. He also installed some rubber washers to absorb some of the vibration. He made calls to customers on my route today but, unfortunately, no one was home. That was very thoughtful. Mike also gave me great directions out of Austin on Farm Road 969. It didn't take long and I was on the road again. The weather was perfect and I felt good riding. I highly recommend Farm Road 969. The scenery was nice and there was little traffic. I might have over done it a bit at Whole Foods though. I think I was carrying 10 extra pounds of food with me. Everything looked so good I couldn't help myself. At Webberville I pulled into the country park for lunch. There were some tables right on the Colorado River and I thoroughly enjoyed this break. Especially the birds chirping in the reeds. Mostly I heard them as they were hard to see. The ride was lots of shallow rollers going up and down all day. The scenery was rolling green hills with cattle and horse farms the whole way.
Soon I was entering Bastrop. I stopped at the Brookshire Brothers market to get some fruit and water. This was a very nice store with a healthy looking produce department. Then I got checked into the Tropicana Hotel for $45. The room was clean with a fridge, micro and very strong wifi.
After so much activity in Austin I was tired and happy to stop for the day. I considered staying for another night. Bastrop is a cute town and the room is cheap. But then I discovered there is a warm showers host a day's ride from here and sent off an email. This was really short notice. If I heard back affirmatively I would push on. If not, I would stay another night.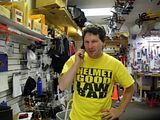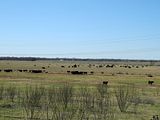 Oil and cattle ranch entrance.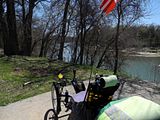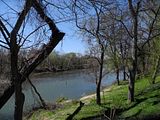 Taking a break on the Colorado River