<LINK REL="SHORTCUT ICON" HREF="http://www.sylviahalpern.com/public_html/favicon.ico">
I arrived in Austin completely exhausted and couldn't have picked a better place to stay. What a find Walt is. He has made me feel very welcome generously letting me spend 5 nights here. The first night we went to a sports bar owned by his son Michael. Walt took me out for a very nice meal. Michael owns 3 bars called Third Base that must have 40 wide screen tv's going. It was very busy with Longhorn fans watching a game against Texas A&M.
The next morning Walt took me on a biking tour of Austin. We went to Lance's bike shop "Mellow Johnny's". The name comes from the Texas bastardization of the french pronunciation for yellow jersey. It was a modern shop with all the latest bikes and gadgets. I had a met a mother of a young gal who works at the cafe here but she wasn't on duty. I bought a few things and we carried on with the tour.
As we were riding the controller to my motor kept cutting out. This was annoying and had me very concerned. Anytime I wasn't using the motor it would turn off. As long as I was using the throttle it was ok but as soon I let go the motor died. Hhhhmmm. I would turn the motor off and on and have to gun the throttle to keep the motor going. Later in the day I noticed that I was getting power surges when the throttle wasn't used. The motor would rev on it's own without prompting. Not good. I did much of the ride with Walt without the motor and boy was I slow. We rode all over the eastside going to a fun farmers market and on many bike paths. It was a beautiful day. There was a huge kite festival on the river but there was no wind. Of all days to have the festival.
Later we went to a soup party put on by a young gal that Walt had also hosted. Katie is 25 and adorable. She had ridden from N. Carolina with her boyfriend and decided to make Austin home. She talked about another impressive trip. The 9 months it took to run across the US. She also knew George Throop, the young man that I met who was walking across the US. I met lots of interesting people at the party and then Walt and I rode to a bar to listen to local music.
The next morning I was eager to find out what was wrong with my motor. Alien Scooters was conveniently located less than 2 miles from Walt's. The owner, Ann, called one of her technicians to find out if he was available. Scott showed up within an hour. Since I had another controller with me we swapped them out to eliminate that as the problem. Now the controller didn't cut out but I was still geting the power surges. The surges were so strong I had to turn the motor off to keep Myrtle from riding off on her own. I gave Ecospeed a call and Brent was very helpful in diagnosing the problem. I handed the phone to Scott and let them talk it through. Scott was very impressed with Brent and the motor system saying it was, by far, the best he had ever seen. The problem turned out to be with the throttle. This is an inexpensive, cheaply built part from China. I will keep a replacement with me from now on. Scott didn't have the same connector and ended up splicing in a new one. It worked out fine. Brent said that since I had switched out the new controller I should send it back to Ecospeed because he had a firmware update that will make it even better. It would only take an hour to upgrade the software and then they would ship it back to me. I was really grateful to Ann and Scott for getting Myrtle on the road so quickly. They dropped everything to help me out.
The next day I spent some time writing postcards and getting the controller ready for shipping. I also went to Whole Foods to shop for 'real food'. It was like coming home walking into that store. The stretch of road between El Paso and Texas doesn't have much to offer. Even the food was bad. I was lucky to find some limp broccoli or squash at the markets. Getting to Austin was like coming in from the desert.
Walt continued to be such a gem! He was so easy to be with as we rode all over town. He genuinely loves being a warm showers host and showing off Austin. His other son, David, is just starting up a Pedicab business. We went to David's to try out the new Pedicabs which was super fun. We went on a tour of the Capital even though I'm sure Walt has seen it plenty of times. I wanted to take him to a nice place for dinner as a thank you and we went to the #1 rated new restaurant in Texas. Uchiko was fantastic. I love Japanese and we sat at the sushi bar talking to the chefs having a great time. The sake was good too.
Even though I could have spent more time exploring Austin 5 nights felt like enough. I think I am done with big mile days and am looking forward to taking it easier on the road. I think the riding will be much more scenic as well.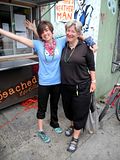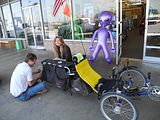 Ann and Scott of Alien Scooters.
With Walt at the Colorado River.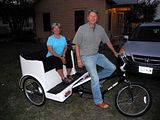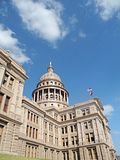 Outside Lance's bike shop.
Walt being pulled by son Michael.