<LINK REL="SHORTCUT ICON" HREF="http://www.sylviahalpern.com/public_html/favicon.ico">
I slept great in the Airstream. David made breakfast and some espresso coffees to get us fueled. Yummy! Chuck took off to photograph museums while David escorted me out of town. Our destination was the Surf Dog cart on the bike path in Carpinteria. We expected to make changes to our route because the Santa Barbara marathon was using the bike route. It turned out that traffic lanes going south were closed to cars but not bikes so we rode along side the runners. Lots of people were out cheering on the runners and they cheered for Myrtle too. Pretty soon we were in Santa Barbara where we stopped at the dolphin statue on the beach for pictures. Next thing I know a group of high school students that had made their own bikes and a few tourists were in the picture with us. It is about 20 miles to Carpinteria from Goleta and that was the end of the line for David. We ordered a Surf Dog and then said goodbye. David was an excellent host and escort.
I had been in touch with a gal from the Ventura Recumbent Riders group who wanted to meet up when I got to town. The group had invited me on a ride around Lake Casitas but I couldn't get there in time. I said I woud let them know my progress and maybe we could meet up after their ride. After saying goodbye to David, I continued on the Screaming Eagles Hwy stopping in Mussel Shouls to charge up the battery. I ordered coffee from the fancy restaurant and made lots of phone calls while I waited. Once in Ventura I found the recumbent riders in the parking lot where everyone had left their cars. It was very nice meeting the riders and we all chatted for quite awhile. I got my second escort of the day when 3 trikers had me follow them to the hotel. Four trikes sure get a lot of heads turning. It wasn't far and then we decided to have dinner together. It was a very enjoyable evening with Laura, Phil and Dawn.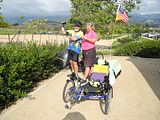 With David in Carpinteria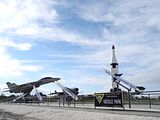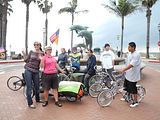 We drew a crowd at the Santa Barbara dolphins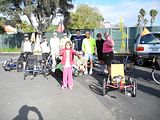 Ventura Recumbent Riders Group