<LINK REL="SHORTCUT ICON" HREF="http://www.sylviahalpern.com/public_html/favicon.ico">
Monday I went to UPS to get the package Ecospeed sent. Unfortunately, the electric bike shop isn't open on Mondays so I called Tracey and we went out to the Avila hot springs. It was only $5 and, of course, we brought a bottle of wine. We were discrete and didn't get into any trouble this time. After, we went out to eat and watched the Giants win the world series. I haven't seen Tracey in many, many years and we really had fun together.
Tuesday morning I rode over to the bike shop so they could replace the BMS board on my battery. Vince took care of all the soldering. We called Tad and Brent from Ecospeed to help diagnose the problem. Phone calls went back and forth for a couple of hours. Eventually they discovered the problem wasn't with the BMS board but the battery itself. So, all I could do was send the components and the battery back to Ecospeed for repair. Sloego and Ecospeed couldn't have tried harder to get the problem fixed. The guys at Sloego gave me so much of their time and wouldn't take any payment. They were all very nice guys. So now Ecospeed will repair the battery and send it to me in Los Angeles. There is only a few days riding to go and I'll just have to charge up during the day. If I had known I was going to be in San Luis Obispo for so long I would have had the new Cycle Analyst part sent to the hostel but it is already waiting for me in Los Angeles. Grin Cyclery in Canada sent me the replacement Cycle Analyst part without hesitation. I love it when manufacturers stand behind their products and are eager to do the right thing.
San Luis Hostel was a very comfortable place to stay. I met lots of interesting travelers from all over the world. I was able to get a private room for the last 2 nights. The previous 2 nights I spent in a dorm room with 4 other women. I wasn't the only one snoring. Upgrading made sleeping a whole lot easier. By Wednesday I was ready to go. I was packed and on the road by 9 am. The weather has been gorgeous and today was no exception. The route took me along Edna Valley Road past miles of vineyards. The vines are turning colors with the fall. The mountains in the background made for lovely scenery. Soon I was in Pismo Beach. This is a small surfer community. It seemed like a town caught in the 70's and reminded me of old Hermosa Beach before it became upscale. I stopped in Pismo for a cup of soup and coffee. I charged up the battery while I ate. The owner had no problem with me bringing the battery into the restuarant. Then I rode through Oceano before heading inland and into rich farmland. The landscape was fields of deep green. The shoulder was full of parsley, lettuce and kale that had fallen off the transport trucks. There were 2 routes into the little town of Guadelupe. I chose to turn right on Halcyon which was fine except for the 1/4 mile 14% grade hill. I stopped in Guadelupe for a taco at La Fogata which was fabulous. It was just another 8 miles into Santa Maria through more farmland. I was born in this town 51 years ago and I'm not sure I've ever been back since. My parents were moving from Los Angeles to San Francisco and I was born 3 weeks early on the way. I thought it would be interesting to see what Santa Maria has to offer. The town was much bigger than I expected and very hispanic. I rode my way to Broadway which I think is the center of town and came across a nice farmer's market. I looked around for an inexpensive hotel and found the Economy Inn. $40 with wifi made me happy. The hostel didn't have a tv and now I can get caught up on all the crazy mid-term election results.
San Luis Obispo to Santa Maria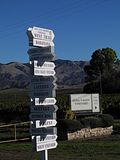 Crazy Tracey takes Myrtle for a spin