<LINK REL="SHORTCUT ICON" HREF="http://www.sylviahalpern.com/public_html/favicon.ico">
One thing that has added a whole new dimension to my ride is Facebook. I resisted joining for a long time and now I find it very valuable. It is such an easy way for friends and family to quickly know that I am alright. Facebook has brought me together with other travelers as well. The first stop on my last trip to SE Asia was Hanoi, Vietnam. Here I met a Swedish couple touring the world on motorbikes. Karin and Kjell were staying at the same hotel as me and we got to talking gadgets and technology. Kjell ended up giving me very good maps of SE Asia for my GPS. We stayed in touch and a couple of days ago I saw on Facebook they had landed in Long Beach, CA to tour the US. They were headed north and made their first stop in Cambria. Again, we stayed at the same hotel and had a delightful meal together. I wonder where we will meet again.
The next morning we had coffee yakking about travel and then I pushed on down the road saying goodbye. The weather was terrific. I rode about 15 miles along ranchland into Cayucos for breakfast. I brought the battery into the restaurant to charge up while I ate. So far no one has even hesitated when I ask to charge up. It took an hour and then I rode into Morro Bay with its large imposing rock off the shore. I wandered around town a bit and ran into another trike rider out for a day ride. Then it was up and over a hill into San Luis Obispo. My first order of business was to find the electric bike shop and see about getting the BMS replaced. I got there around 1:30 and the BMS hadn't been delivered yet. The guys at Sloego were excited to meet me and eager to help out. I felt like I was in good hands. Ecospeed sent an email explaining that UPS had routed the package incorrectly but it should arrive on Saturday. Hhmmpphh! I have a friend that lives in Los Osos just north of San Luis Obispo. She invited me to stay at her house and met me at the electric bike shop. I left Myrtle and the gear I didn't need at the bike shop and went off with Tracey. She and her husband were going to a concert that night and I ended up driving Jim's truck back to their house. Tracey's two boys were home and I ordered a pizza for delivery which made them very happy.
Saturday morning Tracey took me to Montana de Oro which is a really beautiful state park. We watched otters and surfers playing in the waves. Then we went back to the bike shop. The BMS still hadn't arrived? I called UPS and they said it would be delivered on Monday. Monday? They had no explanation or apology for the delay on a package that was sent for overnight delivery.
Tracey wanted me to stay longer at her house but I wanted to be in town to take care of Myrtle stuff and made my way to the San Luis Obispo hostel. This would be my first stay in a hostel on this trip. They only had a dorm room available and I got checked in for $24. Once I got checked in, Tracey took me wine tasting in Paso Robles. It was another great day. Then we went back to the hostel and drank a bottle I picked up at a winery. We talked to other travelers and laughed a lot. We went out to a sushi bar for dinner where we continued drinking. Those little sake cups are so small we kept splashing sake on the table - yipes!. We refilled the sushi chef's cup many times. After eating our rolls and sashimi we ordered another bottle of sake. This time the management asked us to leave. We explained that we weren't driving but this woman had no sense of humor. I can't believe we actually got kicked out of a sushi bar! We sang and danced our way back to the hostel. Good times for sure!
Cambria to San Luis Obispo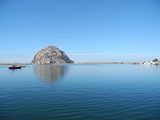 Cayucos coast in the morning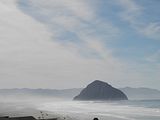 With crazy friend Tracey at Dark Star winery