<LINK REL="SHORTCUT ICON" HREF="http://www.sylviahalpern.com/public_html/favicon.ico">
Not surprisingly, the raccoons made a big ruckus during the night. They actually moved someone's bike that was leaning against a picnic table. I woke up thinking the bike was being stolen. I clapped my hands, hissed, yelled at them and they left. In the morning I found dusty paw prints all over my xtracycle bags but nothing was taken. Everyone else got an early start to give them time in San Francisco.
I had made arrangements to meet with an electric bike guy in San Geronimo which is only 5 miles from the campground. I was meeting Michael Bock at his shop and figured on getting there around 10 am. I meandered my way into Lagunitas taking video and had coffee. I met 2 very young Scottish cyclists that had given themselves 3 months to go down the pacific coast and across the southern tier route from California to Florida. That is a lot of ground to cover in 3 months. They were packed super light with just two small rear panniers and had started in Seattle two weeks ago. I started in Portland, 250 less miles, three weeks ago. I wished them good luck, finished my coffee and then continued on the short distance to San Geronimo. All the towns in this area are small, quiet and quaint. It feels like I'm riding in the country but I'm only a half hour drive out of San Francisco. The weather again was lovely. I pulled up to Michael's shop just as he arrived. Good timing. He has a shop equipped to deal with any bike or electric bike issue. He showed me his electric Surly design with an Xtracycle. Xtracycle and electric assist work really well together. It is a sweet looking set up. I really like the way his batteries are fully protected without any wires hanging out. I showed him my broken charger. He took the thing apart and fixed it in no time. He explained that these chargers have a serious design flaw. The manufacturer used sound wire which isn't strong enough. He soldered in the right type of wire which will make it last longer. He also had dry lube for the motor chain and a replacement mirror. We yakked away a couple of hours. Michael has worked with electric bikes for years and is very knowledgeable. He is a terrific resource and a really nice guy. On my way into San Anselmo he suggested I stop at The Bicycle Works. This is a non-profit bike co-operative with an emphesis on community and electric bikes. One of Michael's electric Surly bikes was on display in the front window. I talked to Jelani, the founding director, and he gave me a tour of the place. Then he put on a clown wig, pulled out an extra high unicycle and did a juggling act out on the street for me. That was such a fun, playful thing to do and I loved it.
I continued on stopping at Taco Jane's for a fabulous snapper burrito lunch. Well fueled, I headed on past Ross, Kentfield, Larkspur, Corte Madera and then up and over the big hill into Sausalito. Here I caught my first view of the San Francisco skyline. What a beautiful sight on a crystal clear day. The road meandered along until I reached the Golden Gate Bridge. This is truly one of the great moments of riding the Pacific Coast route. If you arrive before 3:30 the east side walkway is open. This side has the best view with the whole city, the bay, and Alcatraz laid out before you. Amazing! Often the bridge and city can be shrouded in thick fog but not today. I could see everything. I made a bunch of calls and took a ton of pictures and video. I probably spent an hour enjoying the sights slowly making my way across.
Getting to San Francisco feels like a big milestone. At the other end of the bridge there is a ramp to get down to Crissy Field. I needed to get directions to find my cousins workplace. I was on the lookout for a visitor's center when John Riley and his wife came walking up. Great timing! This is the same couple I randomly met in Pt. Reyes Station yesterday. They gave me terrific directions and I had no problem finding the Yerba Buena Performing Arts Center where my cousin works. I met Guy and we found a place to tuck Myrtle away while I spend a few days enjoying San Francisco and Berkeley.
Samuel Taylor SP to San Francisco
Jelani outside The Bicycle Works
Michael's eSurly on display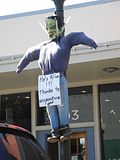 Halloween fun in San Anselmo
San Francisco from the Golden Gate Bridge
Michael Bock with new hub wheel
On the Golden Gate Bridge