<LINK REL="SHORTCUT ICON" HREF="http://www.sylviahalpern.com/public_html/favicon.ico">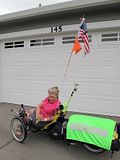 The recumbent retreat is a favorite event of the year and I have always ridden to it. This year I was riding with my new electric assist Ecospeed motor, Cargo Monster and Xtracycle bags. I was very excited about the ride to the coast, testing the new system and seeing all my old biking buddies.
I left Portland in the early afternoon on Wednesday heading to Columbia City. My friends Syd and Joan have a gorgeous home on the Columbia River and I always look forward to seeing them. It is a fairly easy 30 miles door to door. There's nothing like timing and I arrived just in time for dinner. But first, Joan had a surprise for me. She handed me a glass of wine and then showed me the new blanket she had sewn for Myrtle. The blanket is designed to cover the Cargo Monster. The Xtracycle bags are great but they left all my gear exposed and vulnerable to weather and opportunistic fingers. The new blanket is made from a high-vis waterproof material and looks sweet. My stuff will be kept safer and dry. Anyone who says they can't see me now must be blind.
Recumbent Retreat Shakedown Ride
After a hearty breakfast the next morning I left my friends and headed west on Hwy 30 under cloudy and cool conditions. Just as I crested the Rainier Hill it began to rain lightly. This continued for another 20 minutes and the road dried as I flew into downtown Clatskanie reaching 39.6 mph. I stopped at the Corner Cafe for lunch and then continued on to Westport. I found a tired but comfortable motel for the night by the Westport ferry turnoff. It had a kitchen and wifi so I was happy.
I got going the next morning before 7 am. I was very excited to get to the retreat. It was overcast and chilly in the morning but cleared to bright sunshine as the day wore on. There are some good hills on this stretch and my battery was running low by the time I got to Astoria. I pulled into Safeway and plugged in while I used their wifi to update my website. A couple of hours later I finished my internet tasks and, with a full battery, rode the last 10 miles to the retreat. This is my 6th year attending the retreat and it was fun to see so many of my biking buddies. I quickly got settled and soon my sitemates Syd and Joan pulled in with their trailer. The next few days were filled with great rides and trying out lots of different bikes. The highlight of the retreat is the lighted bike parade. Everyone decorates their bikes and trikes and then parades through all the loops of the campground. The campers always give us a great reception. This is just plain 'ol good, clean, simple fun. I love the recumbent retreat! Check out www.recumbentretreat.org for more info about this terrific event.
After a few fun filled days at the retreat I rode down the coast to visit my good friend Annie in Cannon Beach. The weather was fantastic and I enjoyed a booming tailwind for the 28 mile trip. On the way, I got pulled over twice by very enthusiastic people wanting to ask questions about Myrtle. One guy did a crazy U-turn on Hwy 101. After 3 nights of camping it was very nice to sleep in a comfortable bed and take a real shower. Annie offered me a ride home and I was surprised that the trike with Cargo Monster fit in her Subaru so easily.
My shakedown ride was a big success. The motor and battery performed as hoped for. With conservative use I was able to get over 40 miles out of one battery. For my upcoming trip down the coast I'll be traveling with 2 batteries so distance range shouldn't be an issue. All my gear did well. The new blanket was an especially big hit.
Myrtle's sweet new blanket