<LINK REL="SHORTCUT ICON" HREF="http://www.sylviahalpern.com/public_html/favicon.ico">
In the morning I got up, packed and rode across the street to McDonalds for breakfast. I can't even remember the last time I ate at McDonalds but it was quick, easy and they also have free wifi. The wifi was much better than the last time I tried it and getting on didn't require a code or registration process. Soon I was riding around the harbor and back along the coast. There was a big longboard surfing competition getting under way but the waves were very small and sloppy looking. The road out of Crescent City includes the biggest hill of the route so far. It climbs up about 1200 ft into the Del Norte Coast redwoods. As I ascended the conditions became very foggy and misty. The road was wet and slippery at the top. The shoulder comes and goes but there was also 2 lanes for southbound traffic. I got past by lots of construction and logging trucks which all gave me plenty of room. Coming down the road was very bumpy and I noticed my rear wheel slipped a bit which forced me to use my brakes frequently. The camber of the road was also uncomfortably steep for short sections. It was cold coming down and I was happy when I descended out of the fog. There was a great view point coming down where I stopped to take pictures. Here I met 3 young kids from Tennesee who were hiking thier way down the coast. They had given up on the Pacific Crest trail because they wanted to be closer to the ocean. I continued on and met 3 cyclist at a rest stop at the bottom of the hill. Eric, Pip and Shlomo met on the road and had spent the night camping at the rest stop. We all hit it off immediately. I let them take Myrtle for a spin and they loved it. Pip is a proud Duck. His bike had panniers with the green 'O' and a flag. He was also wearing Oregon clothes. The ducks were was taking on Stanford later in the day so he got lots of honks as we continued riding. (While we were at the rest stop lots of emergency vehicles were going back up the hill and I later learned that there had been a headed on crash not even a 1/2 hour after I came through. A van had slipped on the wet pavement.) We didn't go far before stopping at the Trees of Mystery for a photo of the gigantic Paul Bunyan and Babe the Blue Ox. Then it was across the Klamath River and onto the little town of Klamath. We stopped at a gas station that had a Subway and sat in there for atleast 1 1/2 hours. Pip's dad is a pilot and was flying down to see him but the fog had him stuck in Crescent City. There is an airport in Klamath and Pip stayed behind to meet up with his dad. Eric, Shlomo and I bought wine for later and continued riding. There are a couple of good rollers before the turn off for the Newton B. Drury Parkway. I think this is one of the most beautiful roads in the world especially for cycling. It starts with a good climb for a mile and puts you in the thick of the redwoods. There is very little traffic and drivers are going slow also enjoying the gorgeous scenery. It is 7 miles from Hwy 101 to the Prairie Creek campground. I took a 5 minute video while riding which you can see here. The last 5 miles is a very gradual downhill and I coasted the whole way grinning ear to ear. Eric and Shlomo stopped to do a hike and I continued on to the campground.
Today's ride included lots of climbing and I was concerned how the batteries would hold up. It was also so foggy I worried that wetness would get into the electronics but everything did well. There were lots of places I could have plugged in if I needed to but I arrived at the campground with over 3 amps to spare. I got a site in the hiker biker and then went in search of power. A park guy was doing maintenance in the bathroom. I asked about power and he gave me permission to plug into the bathroom outlets. I have a cloth 'Food Front' grocery bag that the batteries and chargers fit into to make it all look less suspicious. With all the red lights and wires I'm sure it could get someone's imagination going if I left them out in full view. The batteries were charged in less than 2 hours and in the meantime I got my camp set up and showered. Eric and Shlomo rolled in and got set up in my area. Even Pip showed up later when his dad had to cancel the flight due to fog. Everyone had food and wine to share and we had a really fun evening together.
Crescent City to Prairie Creek SP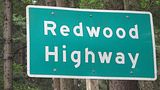 Crescent City longboard competition
Climbing out of Crescent City
Descent from the big hill
Paul Bunyan and Babe the Blue Ox.