<LINK REL="SHORTCUT ICON" HREF="http://www.sylviahalpern.com/public_html/favicon.ico">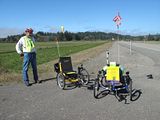 It was very foggy when I poked my head out in the morning. The tent got packed up wet. I knew today's ride included the Seven Devils and I wanted to get an early start. I made up my usual oatmeal with a cup of coffee and at 8 am I was on the road. Kathryn and I did this ride three years ago and remember my speedometer showing 1.7 mph up these beastly hills. There are 6 hills that are not long but the grade is always atleast 10%. Occassionally my altimeter touched 17%. This year's ride was very different from the last one. The motor is so nice. Even though the road is very steep I was able to spin my way at a consistent 6 mph. There is an interpretive center that I remember was very interesting but I past by before it was even open. The road remained foggy for a couple of hours. Traffic was light which is good because there wasn't much of a shoulder. It is a very pretty ride. The road continued inland away from the ocean with only a few small towns. I stopped in Langlois for a cup of chili. I never eat chili and I don't know what I was thinking. It was good but not exactly biking food. The rest of the afternoon was riding in bright sunshine and I thoroughly enjoyed it. I past through Sixes and then on to Port Orford where I had a place to stay. I had been in touch with Pete from the Endless-sphere message boards which are dedicated to electric assist. He and his wife graciously invited me to stay with them. Pete was waiting for me with his e-assist trike and escorted me through town and on to his house. I love meeting people on the road. They don't know me from anyone and opened thier home. I'm basically a stray dog they have invited in for the night. They invite cyclists to stay regularly and have a very nice set up. I was shown to my room with its own bathroom. Pete is on the board of the Coast Guard museum and I got a private tour. The grounds are up the street on a bluff over looking the ocean. There is a lot of history in this area especially with shipwrecks. After a short hike on a trail we went back to the house and Pete cooked up a salmon he had caught. That was fabulous! We yakked about electric bikes for hours and he gave me tons of useful information. He has been tinkering with e-assist for many years and isn't shy about taking risks. I had a terrific time with Pete and Betsy. They made me feel very comfortable.
Charleston to Port Orford
Bike touring message board?
Road up and over the Seven Devils
Pete meeting me on the road