<LINK REL="SHORTCUT ICON" HREF="http://www.sylviahalpern.com/public_html/favicon.ico">
I rode into Fort Bragg with Javier and Silvia saying goodbye at Safeway. I had lots of fun with them and hope we'll meet up again on the road. It was so early that I took care of errands before even looking for a hotel. I did a load of laundry where I met up with John and Jen. One of my mirrors had snapped off coming down a hill a few days ago and I wanted to find a replacement. This is the third mirror problem I've had. I headed to the bike shop and they had the same mirror. The raccoons had got into my bags last night where I mistakenly left my breakfast stash. While they were rummaging around a wire to my rear light got pulled out. The wire had broken from the connector and I wanted to get that fixed too. The young guy working at Ft. Bragg cyclery was very nice but the owner clearly had a problem with touring cyclists. I didn't ask them to drop everything and I was more than willing to pay for their time but this guy very rudely said he couldn't help turning his back to me. I paid for the mirror and went across the street to the hardware store where a guy gave me new wire and helped me install it at no charge. All was right with the world again. I ended up staying at America's Best Value Hotel for $75. The wifi was strong and I was happy. It always feels good to get the journal up to date and photos uploaded. After a good night's rest I was ready to head back out on the road. The hotel provided breakfast which made getting ready even easier. The day started out beautiful with bright sunshine and I was thrilled to be riding.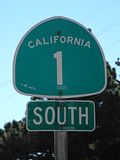 Crossing the Navarro River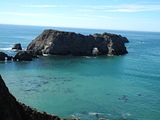 There were gentle ups and down into the sweet little town of Mendocino where I stopped for coffee. I met up with a couple that had ridden from Honduras going to Seattle. They wanted to ride to Standish-Hickey SP today which is a heck of a ride over Leggett hill and it was already after 10:00. I wished them good luck and then met another couple from Boston who were credit card touring down the coast. Mendocino was a busy place. The town was also getting ready for the big homecoming football game and I got out of there just as the parade was starting up. The weather was exceptional. It was one of those very special days where everything feels perfect. After Little River I met up with John and Jen again who had camped at Van Damme SP. We stopped at the top of a climb to watch snorkellers diving for abalone. I continued on riding past Albion to where Hwy 1 meets up with Hwy 128 and Navarro River Rd. I found a turn off for a day use park that was just a lovely spot for lunch. The rollers continued all the way into Elk where I stopped for coffee at the Greenwood Pier Inn. The view was spectacular and the place looked set up for very fancy wedding parties. After Elk is a gnarliest hairpin turn yet. It was the first time since using the motor that I should have been climbing in the little chainring. I was huffing, puffing and gasping for air getting to the top. The actual hairpin is so steep it felt like I was climbing a wall. From there it wasn't far to Manchester. As I pulled in I realized I had stayed here before and thought I really should be reading my own blog to familiarize myself with the route. The state park doesn't have showers or electricity so I went to a KOA which was conveniently located right next door. I expected exorbinant prices and was pleasantly surprised to be quoted $9 for hiker/biker.