<LINK REL="SHORTCUT ICON" HREF="http://www.sylviahalpern.com/public_html/favicon.ico">
My friend Annie drove down from Arch Cape which was a really fun surprise. It was about 4:30 when she arrived meeting me at the Fred Meyer in TIllamook. I had spent a couple of hours internetting and my trike batteries were fully charged. Now we had a dilemma. We wanted to have dinner together but what to do with Myrtle. Leave her locked up at Fred Meyer and ride out to Cape Lookout later or have Annie drive me there? Well, I'm so glad Annie drove me. We took the road around the 3 capes which is beautiful but very hilly. Cape Lookout campground was much farther than I expected and it would have taken me at least 1 1/2 hours to ride there. The rangers at Cape Lookout weren't happy that I drove in wanting a hiker/biker spot. Hiker/biker sites are reserved and guaranteed for people who hike or bike into the park. I told the rangers I was starting my tour from the campground and that seemed to soften their objections. I'm sure the only reason they let me in was that it is off season and unlikely the area would fill up. I was glad to see they take the restrictions seriously. They finally took my 5 dollars and Annie helped put my tent up. The hiker/biker area is in a grove of huge trees which is a lovely setting. There was an international crowd of cyclists already set up from Israel, Spain, Germany, England, Canada and US represented. The area didn't have a bathroom and only one blue room was provided. The day use area is next to the hiker/biker with a proper bathroom but no showers. Showers are quite a hike away. Still, the campground is really beautiful. Annie and I drove into Netarts and had a terrific meal at the Schooner with a bottle of wine. It was really fun having a friend visit me on the road even if it was my first day.
As I crawled into my tent for the night I could hear the waves crashing on the shore. The night's sleep should have come easily. I had bought a couple days worth of oatmeal earlier at a coop and mistakenly left it on the trike. Raccoons found the plastic bag and had a long and loud fight over it just a few feet from my tent. My yelling did not deter them. After they were finished with the oatmeal they went to the next cyclists camp and fought over something else. One camp at a time everyone yelled at the fighting raccoons and this went on for hours.
Cape Lookout to Lincoln City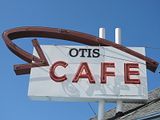 In the morning I saw they hadn't even eaten the oatmeal as it was strewn all around the tent. They just fought over it. I awoke blurry eyed, packed quickly, scarfed down an energy bar and was riding out of the campground before 8 am. No one else in the hiker/biker ever even stirred. The road out of Cape Lookout is heavily forested and very beautiful. The ride started with a stiff 3 mile climb that included a consistent 7 - 10 % grade. The grade was occassionally much higher getting up to 22% for a very short spurt. I had the road to myself and think only one car passed me in the first hour. Sandlake recreation area was miles and miles of forested sand dunes and then it was back to the coast. Tierra del Mar beach was desolate and lovely. I flew down the hill past Cape Kiawanda into Pacific City and stopped for breakfast in Neskowin back on Hwy 101. From there I took the turn off for Slab Creek Road. The day was glorious with bright sunshine and very little wind. I took this route with the Bitchin Bent Biker Babes 3 years ago and remembered it being hillier and longer. Maybe this is a testament that I'm a stronger biker now. I only saw a couple of other cyclists and both commented on the fabulous conditions. I roared down the hill onto Hwy 18 making my way to the Otis Cafe. I stopped for a heavenly slice of strawberry/rhubarb pie and then made my way into Lincoln City.
I had an invitation to meet up with the Taft Trikies. I gave my friend Maggie a call and we all joined up at the Beach Dog cafe in the Taft area of Lincoln City for a late lunch. It was so nice to meet Sheilia, Terry and see Maggie again. We all had a great time and then they showed me to a hotel in town so I could get settled. After 3,000 feet of climbing for the day I was exhausted and ready for an early night.