<LINK REL="SHORTCUT ICON" HREF="http://www.sylviahalpern.com/public_html/favicon.ico">
It was still raining when I poked my head out of the tent in the morning. The rain had come down so hard overnight that mud had splashed all over the outside of the tent fly. Most of the other cyclists had already packed up and left. I had planned on going to Julia Pfeiffer State Park today but found out it is closed. A week ago I had booked a massage at Esalen for tomorrow at 11 am. Esalen is another 15 miles and 2 miles past Julia Pfeiffer so there was nothing to do but stay put. Since it was Sunday the lodge rates should come down and especially with the rain they might have more vacancies. I headed to the lodge for breakfast and stopped at reception to see about a room. The rates had come down and the receptionist started quoting me $190 which is much cheaper than yesterday but still too much for my budget. I talked her down, very slowly, to $129 and got checked in. This is the most I've paid so far for a hotel room on my trip but the idea of staying another night in a soggy tent was more than I could bear.
After breakfast I hung out by the fire until the room was ready and then went to pack up my wet tent. I had put my Myrtle the Turtle blanket over the seat of the trike and battery bags overnight hoping to protect them from the rain. To my utter surprise the motor started up without a hiccup. I motored my way up the steep hill to the hotel. It was still raining hard and continued all day. The room had 2 queen beds and a nice porch overlooking the redwoods. I hung my tent out to dry. Then I discovered I had cell service for the first time since arriving at the campground. With my mifi router I could get on the internet too. The rate card posted by the door listed the room at $400 a night. There was no television in the room or wifi available - yipes! I made the best of it getting everything dry and all my electronics charged up.
I slept well and got packed the next morning wanting be on the road by 7:30 am. I turned on the motor in the morning and the Cycle Analyst came up in SETUP mode. No matter how many buttons I pushed, in any order or length of time, it stayed in that mode. Hhhhmmm! The only thing I really use it for is to monitor and stay within my 16 amp limit and keep track of watt hours. It isn't a show stopper to be without the Cycle Analyst.
There is a fabulous bakery only a couple of miles up a big hill and I started riding there. The road was still wet from all the rain but the skies were clear and it looked to be a beautiful day. The bakery was open and I got some coffee and a frittata for breakfast which was delicious. It was a beautiful 12 miles with outstanding views all the way to Esalen.
Big Sur Pfeiffer SP to Lime Kiln SP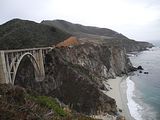 Temporary traffic light to help clear a landslide
Big Sur coast in the morning
Esalen is difficult to describe but I would say it is more of a spiritual retreat campus than a resort. They offer all kinds of workshops in healing arts, pottery and metalworks. You can only enter the property with an appointment and giving them a credit card number. The driveway into the property is extremely steep. At the bottom is a guardhouse and I had to hold my brakes tight. I looked at the GPS and it read -35% grade. I'm sure some of that was road camber. The young woman gate-keeper really took her time helping me which was very stressful. A guy walked up to give her something and she talked to him about harmoniums for at least 5 minutes while I sat waiting with my brakes on. I explained that I wanted to charge up my batteries while I had a massage and this stumped her completely. She pointed me to the maintenance guys for help. I rode down the hill and around until I found the laundry room with an outlet right outside. Perfect! I got plugged in, took my bathing suit and tried to follow the map to the hot springs. None of the buildings were marked and I couldn't find the hot springs building. The grounds are lovely high up on a cliff over the ocean with a large vegetable and flower garden in the center. I could hear the waves crashing below as I walked in the bright sunshine. I had to ask for directions and continued walking along the cliff. When I found the hot tubs there wasn't anyone to explain what to do or how it all works. I looked around and everyone was naked. I kept looking for someone that worked there and couldn't find anyone to help me. I wasn't comfortable with this situation at all. It was so frustrating I started to cry. I finally found someone that was coming to the hot tubs for a department meeting. She explained where to put my stuff and how the hot tubs work. Everyone in the department meeting was naked in one hot tub and in another there was a naked group that looked to be meditating holding hands with their eyes closed. I sure wasn't going to get into either of those hot tubs. Then I found a tub where a couple from Boston were soaking wearing bathing suits. They were also waiting to have a massage. This made me feel a whole lot better. I put on my suit and joined them. The tubs have an amazing view and it was an absolutely perfect day. We were joined by another couple in suits waiting for massages and then an 80 year old naked man joined us as well - yipes! The massage was in a room with 2 other naked people, of both sexes, over looking the ocean. I wasn't really comfortable with this but silently went with it. The hour massage was nice and I was starving by the end. I walked over to the cafeteria and a huge lunch was set up for everyone attending workshops. I went in and acted like I was entitled to lunch and filled a plate with food. It was all vegetarian and delicious. By the time I left Esalen to climb up the very steep hill it was 1:30.
The views for the rest of the day were fantastic. I was really enjoying the ride but kept feeling disturbed by my experience at Esalen. I continued on through lots of road construction where traffic was down to one lane. There had been a landslide and crews were out clearing the mess. The road was so narrow I couldn't see how it would ever be made into 2 lanes again. About 12 miles later I came to the town of Lucia which is pretty much made up of a lodge and a restaurant overlooking the ocean. I guess the vegetarian food didn't have much staying power because I was hungry again. I stopped for a garlic burger eating half and taking half for later. There are a few campground choices on this stretch but I wasn't sure if all of them were open. The first one I came to was Lime Kiln SP and here I learned that the other 2 were closed. That made my decision easy and I got checked into the only hiker/biker site for $10. This is another beautiful campground along a river in a redwood forest and I was happy to stop for the day.