<LINK REL="SHORTCUT ICON" HREF="http://www.sylviahalpern.com/public_html/favicon.ico">
The big question when I arrive to a destination and have a chance to relax for awhile is 'Do I want to continue touring?' 'Really?' It's hard to express the lure of this unorthodox lifestyle but, once again, the answer is 'Yes!'. So far, my triking adventures have been a blast and this last trip was another terrific success. One of my goals for this trip down the Pacific Coast was to see if electric assist could work for touring and that too was positive. There were problems but nothing to keep me from using the motor for another tour. Actually, the Ecospeed motor worked flawlessly and all problems stemmed from the batteries, charger and Cycle Anayst. Even with those problems I was always able to continue motoring my way down the coast.
Since I was going to be hanging out in Los Angeles for the holidays I had a chance to regroup and take care of a few things. The first item on my todo list, now that I had a home base to work from, was to get Myrtle to Bent Up Cycles for some tlc. The tires had gotten me through Vietnam, Cambodia, Laos, Thailand, a summer in Portland and now down the Pacific Coast. I was sceptical they could make it to Los Angeles and even more surprised to do the trip without any flats. Marathon Plus tires are impressive. The other big item was getting one of my hydraulic disc brakes replaced. This brake was installed in Australia outside Adelaide and had been in service for a good 12,000 miles. Even though Myrtle seems to be in good shape I wanted to splurge for a tuneup as well. Bentup Cycles was moving the beginning of December so I put that off until the shop could get settled in thier new location.
The faulty battery was shipped off to Ecospeed and I was a bit worried how it would be repaired. I'm using Ping batteries that are made in China. Even though the battery is under warranty it can't be shipped by air back to China, not legally at least. This FAA shipping restriction makes swapping out one battery for another problematic. Ecospeed found a couple of dead cells and replaced them rebuilding the battery. This is quite a labor intensive job. They charged me for the labor and sent the rest of the bill to the manufacturer. The fixed battery was mailed to Los Angeles and all is right with the world again. Batteries are definitely the weak link for electric assist.
I spent this 2 month hiatus staying with my 85 year old aunt. Eve is an actress and a member of the Screen Actors Guild (SAG). We went to lots of movies, plays, readings and operas. Eve is still working and I accompanied her on auditions too. The audition waiting room is full of old ladies that have been competing for the same parts for decades. Some of the women are in thier 90's. They all know each and the gossip is flying. It is a scene worthy of it's own screenplay.
For Thanksgiving we drove with cousins to Berkeley to stay with Eve's son. This is an annual potluck feast and this year 31 people crowded around the long table. The food was fantastic and it was great to see everyone. I put together a slideshow of the evening.
At the beginning of December I rode Myrtle over to Bent Up Cycles and they did a terrific job getting her ready for the next trip. Dana and Jim are always upbeat and enthusiastic. Speaking of next trips where will I go this time? I decided to make this next adventure across the US. I will start in Los Angeles and ride a loop around the desert to Palm Springs. Then head south to the southern tier bike route with maps put out by Adventure Cycling.
In the meantime, I flew to Portland for a week to visit with friends over Christmas. It was a nice break and wonderful to see all my old buddies. When I returned to Los Angeles I realized there were a few things I still needed to purchase for the upcoming trip. Once I get it all organized I will start riding again and expect to be on the road by the second week of January. This will be a new journal called Southern US eTour.
Let the next adventure begin!
Los Angeles, Berkeley and Portland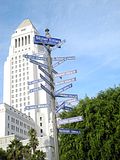 City hall and Los Angeles sister cities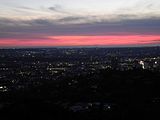 Griffith Park Observatory
West LA and the ocean at sunset