<LINK REL="SHORTCUT ICON" HREF="http://www.sylviahalpern.com/public_html/favicon.ico">
I had a short but sweet visit in San Francisco and Berkeley. My cousin was working so much I hardly saw him. I took advantage of the time and got lots of things done. My old high school friend Monica lives in Corte Madera and we had a wonderful lunch together getting caught up on our lives. There's no place like Berkeley for people watching and I walked around the city in amazement everyday. I also bought a new gadget. My phone service was frustratingly non-existent for about 700 miles between Portland and San Francisco. I had picked up a cheapo phone and no contract service from Fred Meyer early last summer and it worked great in Portland. The service wasn't doing me any good now and I decided to upgrade. I went to a Verizon store and got a phone and a mifi unit. Mifi will give me a 3G wifi hotspot where ever there is Verizon cell service. The hotspot will work for 5 devices at once. The router is smaller than a pack of cards and weighs just a couple of ounces. Virgin mobile also sells this same unit for $149 and a service plan that is $20/mo less but they were out of stock and I think you can only get it online. I'm not sure what cell service Virgin uses but there is also no contract . With a Verizon 2-year plan I was able to pick up the phone and mifi unit for no additional costs which they like to say is free. So far the service and mifi are working great. I've been using the mifi mostly with my ipod touch to get online. I have a month to try it out and see if it works like I'm hoping for. The stretch between San Francisco and Los Angeles will be a good test for coverage.
I enjoyed my stay and seeing cousin Guy but sleeping on the couch was difficult on my back. Monday morning I took Bart back into the city to get Myrtle packed up. I had to do a lot of maintenance while the batteries were charging and finally got on the road around 11 am. San Francisco is surprisingly easy to bike in. This city always feels quiet to me. It amazed me how often I was riding without any traffic. Of course, compared to riding in Hanoi or Bangkok, San Francisco really is easy.
I found Golden Gate park and made my way to the Great Hwy. The conditions were foggy, gray and cool. I could see bright sunshine to the east and was hopeful the day would warm up. I had been in touch with a woman that has followed my journals from the beginning. Kathleen lives south of San Francisco and has an ICE trike. She wanted to ride with me when I got close. I was looking forward to this meeting. I called her from Pacifica and she offered to bring me some hot chocolate on the other side of the Devil's Slide. The Devil's Slide is probably the most trecherous piece of the Pacific Coast route. It is a series of winding steep climbs with no shoulder and lots of traffic for about 6 miles. The most frustrating part is there is plenty of room for a shoulder to be added. Construction for a big tunnel project through a mountain is going on as well. It is unclear if the current road will remain or if bikes will also be going through the new tunnel. Kathleen met me with a big cup of hot chocolate that tasted great. We yakked for a while and then agreed to meet up again closer to the bike path into Half Moon Bay where she could park her car. I continued on past Montara and the lighthouse hostel that I stayed in 3 years ago. Kathleen was waiting on her trike at the turn off for the Moss Beach distillery. We took side streets off the Cabrillo Highway into Princeton-by-the-Sea for lunch at Barbara's Fishtrap. We shared a plate of fish tacos that were fabulous. The fog had burned off and it turned into a beautiful day. Then we rode along the ocean through little El Granada and Miramar watching pelicans dive for food in the water while yakking away. Kathleen rode with me all the way to the campground at Half Moon Bay. It was really fun to meet a fellow triker and have company on the road.
Thanks Kathleen for a very enjoyable afternoon!
San Francisco to Half Moon Bay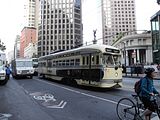 With triker Kathleen on the bike path
Bart station entertainment