<LINK REL="SHORTCUT ICON" HREF="http://www.sylviahalpern.com/public_html/favicon.ico">
There was some talk about rain today but I awoke to bright sunshine. The route Dr. J's bike shop recommended starts out of Solvang and so I got packed up and headed that way. I past an ostrich farm and pulled over. The ostriches were peacefully eating but when I pulled out the camera they took off running and running. I shot some video of all the commotion. That was quite a sight. I continued on and thought about stopping for a pastry in Solvang but nothing really grabbed me. I took the turn to Alisal Road which is a beautiful road along a fancy golf course and winds through thick forest and then organic farms. Much of the road is covered by trees. I could feel both warm and cool breezes coming from the east and west. The road was perfect for cycling. There was no traffic and the ride was very quiet. It wound up and up and eventually brought me to Hwy 101. The wind was absolutely howling when I got to the top of Gaviota Pass. My altimeter read -2% grade and I should have been flying downhill but it felt like I was going up hill. I got off the trike to check for a rear flat and the wind was so strong it actually pushed Myrtle back uphill. The wind was pushing 140 lbs up a -2% grade hill. Very impressive. It wasn't until the altimeter read -5% that I could feel the downhill. There was so much debris in the shoulder I couldn't go very fast anyway. I pulled over at the rest stop but there weren't any oulets so I continued down the pass to the ocean. The hwy and coastline were completely socked in with fog. This lasted for another 5 miles and then I emerged to a gorgeous day.
I stopped at beautiful Refugio State Beach to have lunch and charge up my battery. I gave my host for the night a call letting David know where I was and he decided to meet me on the road. I continued on and met up with David on his TerraTrike at the Hollister exit in Goleta. Thank goodness for the motor because there was no way I could have kept up with David on his speed machine. He took me on bike paths through Goleta and the busy UC Santa Barbara campus to his home. It was a really nice ride. David has been following my journals from the beginning and invited me to stay at his house. His wife Mary met me with a glass of cold water and we all yabbered away. Then a trike enthusiast friend came over and everyone took Myrtle for a spin. They were all impressed with her speediness and came back grinning ear to ear. David's brother-in-law Chuck had also just arrived from Minnesota. We were shown a choice of rooms to stay in. I could stay in the house or the Airstream trailer. Airstream trailer? How cool is that? Mary made us a fabulous dinner and the wine flowed freely. Chuck is working on a big project that has him traveling all over the country. He is photographing how Americans document their culture. The converation was very interesting. David and Mary made me feel very comfortable and I think I made some new friends too.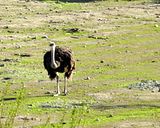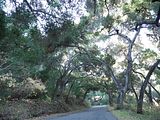 Heads down at the ostrich farm
Dave, Chuck and the Airstream