<LINK REL="SHORTCUT ICON" HREF="http://www.sylviahalpern.com/public_html/favicon.ico">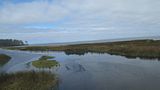 I had a great time with Shlomo, Eric and Pip. We spent quite a bit of time doing maintenance on all our bikes. Another couple came in and the guy saw us working. He came over with a large rag he thought would be useful. The timing was perfect. I had put Myrtle on her side to clean the chain which wasn't such a good idea. When I was done the front chain had come off not only in the front but where it connects to the motor. John came over to take a look and fixed it immediately. Turns out he is a mechanic that works for River City Bikes in Portland. The other guys had lots of questions for him and he was patient with everyone. I figured if he didn't want to help us he wouldn't have volunteered the information about being a mechanic. After getting our bikes cleaned and tuned up we went to another table to fix dinner. We shared our food and wine in a community fashion. We got a fire going and yakked away the evening. Perhaps it was the cheap wine we were drinking but I didn't really sleep well. The fog was so thick over night it sounded like rain on the tent fly. In the middle of the night I awoke and remembered that I had left Myrtle in the middle of the field. I was a bit panicked that water was going to get into the electronics but by the time I thought about it there was no point in moving her. She couldn't get any wetter. Packing up in the morning was more difficult because everything was wet. The only dry place was the inside of my tent. I probably packed a few extra pounds in water. The guys were staying at the campground for the day to do some hiking and slept in. The moment of truth came when I turned on the motor and everything was fine. I pushed off before the guys were up but manged to get a feeble goodbye from each tent. Hopefully I'll see them on the road again at some point.
Three years ago I stayed at this same campground and remember seeing a ton of elk grazing in the morning. Elk were actually ramming each other on the shoulder. It was amazing. I rode along the same field but there were no elk this time. I went about a 1/2 mile past another field and here were the elk. There were probably 50 elk. Some were grazing and, yes, some were ramming each other. I took a side road to get closer. I cycled very slowly so I wouldn't scare them. My camera wasn't zooming again and I decided right there and then to replace it at the earliest opportunity. I sat watching the elk for a long time. There was a group of 4 elk that took an interest in me and they walked towards me very slowly. They got so close I started to panic and slowly rode off. They walked with me for a few hundred feet. That was a really cool experience.
The fog was lifting and the sun was trying to come out. I went another 5 miles to Orick for breakfast. Today's ride was almost exclusively on Hwy 101. Most of the time there was a really wide shoulder but it seemed like there was more traffic than usual. I put on my ipod to drown out some of the traffic noise. It was Sunday and maybe people were returning home after a weekend away. There were a few good rollers but no climbs like the last couple of days. The miles melted by through Trinidad and over a small hill into McKinleyville. I took a break at a rest stop and enjoyed the ocean view. Then it was on to Arcata along a bike route detour that went through farmland and some sunflower farms. Arcata was actually my destination for the day but there was only one hotel. It looked dormish and very tired. I felt I could do better for $75 and continued on. It was still early and Eureka was only another 7 miles.
Highway 101 was really busy and I had to be extra careful crossing the on and off ramp lanes. I checked out a few hotels in Eureka before finding the Town House Motel for $55. The garage was open to the street. The owner had me lock Myrtle to a pole and then used his car to keep her extra secure. He was very thoughtful. The motel had wifi and ethernet in all the rooms. My stuff was so wet I checked in for 2 nights. On Monday I went down to the camera store and bought a new Nikon P7000. Then I mailed the old Canon G10 home. There was a massage place across the street from the post office and I made an appointment. Another good nights rest and I should be ready to ride out tomorrow into more amazing redwood forests. My destination for tomorrow is camping in the Avenue of the Giants.
Prairie Creek SP to Eureka
Rest area in McKinkleyville
Last picture taken by my Canon G10. Hello Nikon P7000.
Group of elk in a clearing