<LINK REL="SHORTCUT ICON" HREF="http://www.sylviahalpern.com/public_html/favicon.ico">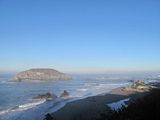 I had a very nice stay in Brookings. The weather was great, I visited with friends and met very nice people. I took Myrtle's blanket to a quilt shop to get one of the straps reattached. The woman said to come back in a couple of hours. She did a great job strengthening all the straps and then didn't charge me. So sweet. I went back to the wine bar in the early evening for dinner and to use the wifi. I left Brookings all caught up.
It was warm and dry again in the morning. No wet tent to pack today - yoohoo! Even though I didn't have far to go I took off at my usual 8 am. I stopped at Fred Meyer for supplies and went to Mojo's for a cup of coffee. I talked to some enthusiastic people for a long time about the advantages of electric assist. Eventually, I got on the road for real. The route today was mostly off Hwy 101. I took a picture at the California border and then turned off into dairy farm land. The road didn't have much of a shoulder and my right wheel was well into the gravel when traffic came from both directions. Soon I was going through the small towns of Smith River Rancheria and Fort Dick. The road widened before the prison and I had a huge shoulder all the way into Crescent City. The weather was warm and cloudy with no wind. There were a good 10 cyclists back at the hiker/biker and most everyone was headed to Crescent City today. I expected to see some of them on the road and was finally past by 3 Canadian gals at the end of my ride. It was only 1 pm when I arrived and I could have gone farther. Hwy 101 continues with the biggest hill of the route so far and I'm putting that off until tomorrow. There is a campground that is supposed to be lovely in a redwood forest. It is 10 miles off route and out of town so I decided to stay in a hotel. I probably could have found a better deal but Travelodge was centrally located with wifi so I paid the $58. My laundry situation was dire. I have so few clothes it doesn't take long before washing is mandatory. I also feel like I should get a massage. Back in Lincoln City I had a massage and the masseuse suggested I get a wooden spoon to use on my stubborn shoulder muscles. She advised leaning on the spoon to apply pressure similar to what a masseuse would do. I bought a spoon today and it will be interesting to see if this technique is effective. I'll take advantage of my hotel room to get a good night's rest and be ready for tomorrow's climb.
Brookings to Crescent City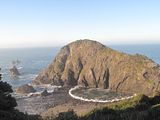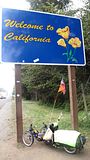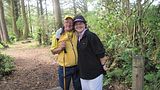 Team Krusti try out Myrtle