<LINK REL="SHORTCUT ICON" HREF="http://www.sylviahalpern.com/public_html/favicon.ico">
My timing couldn't have been better. It rained all day. I did a load of laundry, made phone calls, internetted and even took a dip in the hot tub. I had a wonderful visit with Connie and Bill. Shortly after they returned home a friend of Connie's called inviting us to see the movie Winter's Bone. The subject matter was tough but it was a good movie. Bill is big into model trains and he showed me his extensive setup that has taken most of his life to build up. It was nice to relax in such a comfortable home and be with caring, loving friends.
The next morning Connie saw me off. The sky was crystal clear and the temperature had warmed up considerably. What a change from yesterday. The scenery was already beautiful as I crossed the bridge out of Florence. There was a good and sustained climb immediately. I turned on the motor to push me up at 6 - 8 mph. Sometimes the shoulders on Hwy 101 can be skimpy but I had plenty of room on this stretch. The road had recently been repaved and the surface was smooth as butter. This went on for 20 miles all the way into Reedsport where I stopped for lunch. There was little wind and the temperature must have been approaching 80 degrees. I probably should have put on sunscreen. After Reedsport my big concern was getting across the Coos Bay bridge. I don't think bikes are allowed on the bridge but I decided to turn up the motor and risk it. The sidewalk was closed so I didn't have a choice but to take the lane. I held up traffic but with the motor I was over it quickly and no one gave me any grief. I was on the lookout for a camera store. The zoom function on my beloved G10 was giving out. I saw a Walmart and pulled in to see if they would have a suitable replacement. I had used up 12 amps so far and since there were outlets all along the outside wall I plugged in while shopping. Walmart didn't have what I was looking for and I walked next door to Staples but didn't have any luck there either. I continued on the 10 miles to Charleston which is a very cute town and then on to Sunset Bay Campground. The hiker/biker was closed for the season and the ranger gave me a car tent site for $5.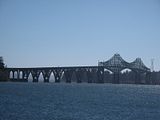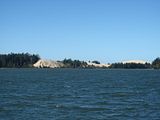 Reflective pond to Reedsport
Sand dunes before Coos Bay