<LINK REL="SHORTCUT ICON" HREF="http://www.sylviahalpern.com/public_html/favicon.ico">
I met some really fun people at Lime Kiln. Josh and Julie introduced themselves by handing me a glass of wine. Jim rolled in on a Bike Friday as the only other biker. We all walked down to the beach to watch the sunset and then got a blazing fire going. Good thing too because it got cold after the sun went down. I couldn't get warm and had a lot of trouble sleeping.
In the morning it was clear and still very cold. I packed up and plugged in my charged batteries. One of them had a BMS (battery management sytem) blowup. The circuit board had smoke coming from it and really stunk. I have no idea why this happened. Oh boy, now I didn't have a cycle analyst and I was down to one battery - yipes! I also didn't have any phone service and couldn't call anyone for help. I left the campground and climbed the steep hill back up to Highway 1. I rode in bright sunshine through the last of the Big Sur coast and it warmed up quickly. Everything on the Big Sur coast is really expensive. I stopped in Gorda-by-the-Sea for breakfast. The gas was over $6/gallon - ouch. Thank goodness I didn't need any. There still wasn't any phone service but the restaurant had wifi. I tried to make a Skype call to Ecospeed but it didn't work. After many attempts I resorted to sending an email trying to explain what happened to my battery. I charged up while having breakfast and then continued on to Ragged Point.
The scenery was outstanding and the weather was perfect. There were some really good hills and then a big downhill to Ragged Point. I stopped in here to charge up the battery again. The hills were steep and without the Cycle Analyst I didn't know how many amps I was going through. At Ragged Point I saw hundreds of monarch butterflies. I had been hoping to see them some time on this ride and here they were. It was very exciting to see the butterflies on their journey to Mexico. The view from Ragged Point is fantastic and I walked along the cliffs enjoying it.
The road continues to descend and soon I was back at sea level hearing seals and sea lions barking. In the shadow of Hearst Castle is the sea elephant seal beach refuge. It is 5 miles of coast line donated by the Hearst foundation as a home for the sea elephant seals. This time of year it is full of juvenile males. A woman who volunteers as a friend of the sea elephants walked up and told me all kinds of information about these amazing animals. She had a book with pictures showing the beach at different times of the year. I enjoyed watching the elephants and then carried on. A few miles later I decided to try calling Ecospeed and actually had phone service for the first time in a couple of days. Tad got on the problem and found an electric bike dealer in San Luis Obispo. He said he could send a new BMS there and offer whatever technical support was necessary to get the battery fixed. Good job Tad! From here the road really flattened out and it was an easy ride into Cambria. I was really exhausted and decided to spend a couple of days in a hotel to rest and relax.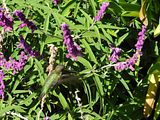 Hummingbird at Ragged Point
Sea elephant seals in a cove
Sea elephant juvenile males