<LINK REL="SHORTCUT ICON" HREF="http://www.sylviahalpern.com/public_html/favicon.ico">
It was really hot in the afternoon and I laid low. It's November and the temps got up to 90 degrees. Somehow it doesn't feel right to be putting on sunscreen in November. I forgot my ears and they got burned - in November. Crazy! I didn't really sleep so well either. There were all kinds of people out in the streets banging around last night and I was worried about Myrtle. My imagination does me in like this often. Myrtle was perfectly safe locked up right outside my door.
Today's route detoured from the Adventure Cycling maps. To start with, Santa Maria isn't even a stop on those maps. I packed up and did a drive through breakfast before getting on the road for real. It was many miles through Santa Maria into Orcutt and then I followed Hwy 135 until it junctioned with Hwy 1. Now the road was nice and freshly repaved. What a difference! Some of it didn't even have lines painted yet. The Adventure Cycling maps route off of Hwy 1 to Grasioso Rd to Harris Grade. I remember Harris Grade being quite steep in places and since Hwy 1 was so nice I decided to stay on it. The shoulder was wide and I was happy. The landscape was big ranches and then the road skirted Vandenberg AFB. There were some good long climbs going this way too but most were in the 6% grade range and very manageable. The downhills were welcome. I had so much room and could see the road a long way off. I got up over 40 mph a couple of times today. Pretty soon I was in the Santa Ynez valley seeing lots of wineries and family farms. Just before Lompoc I stopped at Alan Hancock College to charge up the battery and have lunch. I even went into a lounge and used the interenet. From Lompoc I took off on Purisimo Dr to Hwy 246. There were signs for La Purisimo Mission which I had never heard of. In 4th grade we spent a lot of time talking about California history and especially the missions. Somehow this one escaped me. I didn't stop at the park but it looks very nice. Hwy 246 had a good shoulder all the way into Buellton and I was ready to stop. The heat had taken a lot out of me. Last night I was looking for hotels in Buellton on the internet. I noticed that I could get a better rate at a Motel 6 if I reserved online. I was happy to save $5 and got the room for $50. Anytime I can get a hotel room for $50 or less I feel like I have scored. I found my way to the Motel 6 and after dropping off my stuff I rode to Solvang. This is a touristic town with a Danish flair. All the streets have Danish names. I explored for a bit and then checked out the bike shop. Dr. J's gave me a good way into Santa Barbara through farmland and horse country. This detour will junction with Hwy 101 at Gaviota Pass. I've been in touch with a couple who live in Santa Barbara that have been following my journey. They have graciously invited me to stay at their home and I'm really looking forward to meeting them. The weather is forecast to be a bit cooler tomorrow as well.
Passing by Vandenberg AFB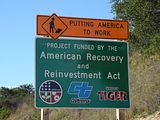 Thanks for the nice roads!