<LINK REL="SHORTCUT ICON" HREF="http://www.sylviahalpern.com/public_html/favicon.ico">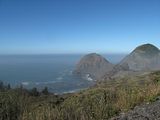 I slept great in the guest room. Pete and Betsy saw me off after a good breakfast. We had gone over the days route and it was going to be a hilly one. At 8 am the sky was clear and it was already getting warm. The sun shining through the fog on the ocean was stunning. I pulled over all day to take pictures. It seemed that around every corner there was another outstanding view. The road rose immediately going up and over Humbug Mountain. The state park is closed for maintenance. Through much of this section Hwy 101 is getting ready to be repaved. There were many places where temporary asphalt had split leaving deep gouges. I had to be especially alert on the downhill. I took the Old Coast Rd off the highway into Wedderburn. Then it was back on 101 into Gold Beach. The temperature had come up significantly. I stopped at the Y-Knot cafe for lunch and everyone was complaining how hot it was. I didn't think it was hot enough to complain but apparently temperatures inland are scorching. I had a fantastic crab pattie sandwich that was so big I took half for the road. The restaurant had wifi and I took advantage. Pete had warned me that the road from Gold Beach to Brookings was very hilly and if I had a chance to charge up I should. I had used up 8 of my 16 amps and decided to follow his advice. The restaurant owner was fine having me bring in the batteries. I also charged up my phone, gps and ipod. Now this was multitasking. The reception on my phone was just good enough to call friends that live in Grant's Pass. They wanted to come visit me in Brookings and asked me to call when I knew I'd be there. I'd gladly spend an extra day in Brookings to visit with friends.
The road out of Gold Beach included a very long hill. I think the first hill was over 3 miles long. There was also lots of road construction with only one way traffic. It seems that the entire length of Hwy 101 in southern Oregon is being repaved. The south bound lanes had already been repaved but were missing the lines. The shoulders are being widened and this route is going be really great next year when the project is finished. Since traffic was only going one way I waited for the group going southbound to pass and then I took the lane. The surface was smooth as butter and on one downhill I got up to 42 mph. It was a long day and I was happy to see Brookings come into view.
Harris State Park is a mile north of town. I hadn't seen cyclists all day but had to wait for 2 to register. They were at the last stop on thier tour. I paid for 2 nights and then got set up in the hiker/biker area. I rode the short distance into town and found a lunch place that also had wifi. I called my friends Skip and Renee and we will meet up tomorrow morning. My journal was behind and I needed to spend some time working on it. Next door a wine bar opened for the evening and I moved over. Some cyclists came in and I invited them to sit with me. Team Krusti had started in Alaska and were going as far south as their money would take them. They were riding the big hill out of Crescent City when Rusty's rim broke. They left the bikes behind some trees and, since there isn't a bikeshop in Crescent City, hitched a ride back to Brookings hoping to find a suitable replacement. Kristin and Rusty were a lot of fun and I hope to see them again down the road.
The next morning was dry and warm which is unusual for the coast. The weather, so far, on my trip has been much better than I expected. Every day I get up and can't believe it is still so nice. My friends Skip and Renee showed up at 9 am. We went out for breakfast and yakked away many hours. They both ride Greenspeeds and were very interested in how the electric assist worked. They are sweet friends and it was great to see them. It was really special to have friends meet me on the road. Tomorrow I head out again and cross the border into California. I can't believe I've come so far already.