<LINK REL="SHORTCUT ICON" HREF="http://www.sylviahalpern.com/public_html/favicon.ico">
My heart sank when I rolled up to the Holiday Terrace Motel with the Chinese buffet restaurant in front. Sometimes looks can be deceiving and I ended up having a comfortable stay. I spent the evening preparing my food staples for 3 nights of camping.
The next morning was beautiful and I got on the road before 9 am. Not far up the Trace was the first pull in for Witch Dance which is also a bicycling campground. Seems the area is considered haunted and I was glad this wasn't my destination. The Dogwood trees are starting to bloom giving the already beautiful scenery added color and texture. I also met another touring cycling. Jerry Underwood was walking up a hill when I stopped to ask if everything was ok. He has feet problems and needs to give them a break from pedaling. Jerry is headed to New Orleans to visit his mama. We exchanged information about the roads ahead. The Trace went through the Tombigee National Forest. There weren't any towns to pull off to in this section. The fire service was doing a controlled burn and luckily the wind kept the smoke blowing back into the forest. The road was very nice with little traffic into Tupelo. I took off on Main St to stop at Starbucks. Lots of people had questions about Myrtle and my trip. There was a Walmart practically across the street and I went to pick up some fruit while charging the batteries. Since I was camping I took my time. This was a mistake. I headed back on the Trace at 4 and right into rush hour traffic. The Trace is a commuter road connecting north and south Tupelo. It is crazy busy and actually dangerous. No one wanted me on the road. Everyone was honking and yelling at me. It was awful. I would pull over and let traffic go by enduring all the rage. I think it took 1 1/2 hours to go 6 miles. I was furious by the time I arrived at the Tupelo Visitor's Center where there is supposed to be a bicycling fee-free campground. How could this road be considered a bike route? The visitor's center was closed. There wasn't a sign or any information about where the campground is located. Again, I was furious. I stood in front of the building swearing for a long time. I rode over to a maintenance building hoping someone was around. No one was there but an emergency number was posted. The woman who answered seemed annoyed that a cyclist was calling this number. I was so angry I let her have it. She called a ranger to meet me. When I went back to the visitor's center a ranger opened the door for me. She gave me bottles of water and let me use the bathroom. She also gave me detailed directions to the campground. There is no way anyone could find this campground without directions. I had to take a dirt path marked with a 'closed' sign to the area. Then there was a bridge over a creek that had steps down and up again. Stairs? To a bicycling campground? Again, what are they thinking? My trike is too heavy to take up and down steps so I set my tent in another area by a portapotty. There had been a controlled burn here too and it was a bit stinky. I wasn't happy about this situation and didn't like being alone here either. My friend Joan called and it felt good to vent. This situation is not what I had in mind. At least it was warm. I was just hoping to get a little sleep.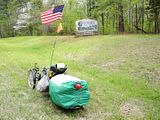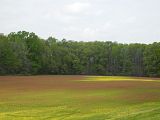 Fireman starting a forced burn.
Jerry Underwood riding to visit his mama in New Orleans.
Wildflowers in full bloom.