<LINK REL="SHORTCUT ICON" HREF="http://www.sylviahalpern.com/public_html/favicon.ico">
Not surprisingly, I didn't exactly sleep well. The owls and frogs! They were so loud. I packed up early and headed back to the visitor's center to find a picnic table to make breakfast. When the rangers arrived I brought my batteries inside for charging. I also took the opportunity to tell them what I thought of the road through Tupelo. They said every cyclist that comes into the visitors center says the same thing. Unbelievable! The drivers on this stretch of road must express the rage I experienced everyday especially this time of year. And yet - Tupelo does nothing. How about a MUP? A shoulder? How about a number cyclists can call to get a ride from the park rangers to the visitors center? I also wrote a letter and mailed it to the park service.
Another big issue for the day was the government shutdown. These rangers were waiting to find out if they would be locking the doors and going home at noon today. If the government shuts down all federal parks and services would also shutdown. That means the other bicycling campgrounds too. The ranger said that the last 10 miles of the Trace would be gated and I would have to look for another route into Nashville. None of this had even occurred to me. I'll be riding at noon in a remote area and will have no way of knowing whether or not the government remains open. The ranger worked with me to find alternate accommodation destinations. Instead of going to the federal cycling campground at Colbert Ferry Alabama I would end sooner at Tishomingo State Park today. Since Tishomingo is a state park it would not be effected by the possible government shutdown. This was all very enlightening and it was really good I stopped in to talk to the rangers today.
After getting the batteries charged I started up the Trace again. It was close to 10 and the traffic was light. This was a great relief. The landscape was gorgeous today. I stopped at the Pharr Mounds for pictures and met the Canadians on bike fridays again. The Pharr Mounds are an Indian burial ground dating back to 200 A.D. I pulled over at various rest areas and enjoyed the views. There were ponds with hundreds of turtles. All you could see were the little noses poking out of the water. Lots of beautiful butterflies kept me company as I rode. I had lunch at a picnic table on a lovely little pond. The temperature was more than warm and actually got up to the 90's. The light tailwind kept me cooler. I took the exit for Tishomingo State Park and had a wonderful downhill to the entrance. The ranger couldn't tell me if the government had shutdown. Primitive sites are $13 but I took an upgraded site with electricity on Haynes Lake and closer to the bathroom for $18. This is a really beautiful setting. If I wasn't on a time schedule I would have stayed another day. The wind was calm enough that the lake was reflective. It was a very relaxing sight. I set up my tent and a friendly duck came over looking for a handout. It was so warm I couldn't decide whether to put on the tent fly. My neighbors were from Quebec and we talked travel while enjoying the sunset. This campground was a welcome change from last night's situation. I felt much more comfortable with people around. Eventually mosquitos chased me into my tent.
Tupelo to Tishomingo State Park, MS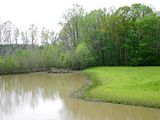 Tishomingo campsite with friendly duck.
Pharr Mounds date back to 200 A.D. with hay tractor.