<LINK REL="SHORTCUT ICON" HREF="http://www.sylviahalpern.com/public_html/favicon.ico">
Vicky and Bill made us a fabulous spaghetti dinner with far more food than I needed to eat. The restaurant is closed on Sunday but they generously accommodated our request for dinner. We yakked away about all the quirky and interesting people that have stayed at the Inn. The food was delicious and it was a very fun evening. In the morning Bill was up before the sun to make us a huge and wonderful hash brown casserole breakfast with all the trimmings. We were extremely well fueled for our ride to the end of the Trace.
The weather channel had put out a warning alert about a large thunderstorm expected to hit the area today. To me, it appeared the outer edges of the storm would cross our path at 1 pm. The three of us were packed and on the road by 7 am. We were all suffering from the early hour but anxious to get going. Ross and Dawn had flights to catch in Nashville tomorrow so they didn't have a choice but to start early in hopes of missing the storm. These storms are nothing to mess with. The winds are typically so strong that tree limbs and debris are flying. It is no place to be on a bicycle.
There is a long, steep climb out of Fall Hollow. First to the Trace and then continuing up a big hill. It is likely the biggest climb of the day but there were more tough stretches ahead. With my motor I was able to push ahead of Ross and Dawn. Our first destination was Fly, TN. Bill and Vicky recommended we stop there to visit with Wilson Fly. Fly General Store is about 25 miles into the ride and a perfect place to rest and charge up. Today's ride was beyond my batteries capacity and if I was going to out run this impending storm I was going to need my batteries. Just before the turn off for Fly I started seeing Model A cars going south. I probably saw 100 cars, many giving that very distinctive honk as they passed. I got video. The turn off for Fly was a very big hill down to the 'town'. I wondered if Dawn and Ross would take the exit once they saw what it would take to climb back up. Fly wasn't much more than a cemetery, bridge and general store. The store was sporting Tennessee, US and Confederate flags. Wilson Fly enthusiastically welcomed me offering an electrical strip to charge up. We chatted about the area while I drank a locally make Sun Drop soda. Dawn and Ross came riding up within a half hour and it was good to see them. They had found my friend Dave Van Gundy, Captain America, pushing his bike through bushes onto the Trace. Apparently, he was heading south from Nashville and turning off to the Great Rivers Route. I'll have to get his story about what he was doing in the bushes. Their timing was perfect. My batteries were fully charged and soon we pushed off again.
The route continued to be very hilly. We turned off at a beautiful sunken river rest area where the storm first started to make it presence known. The sky turned very dark and the winds picked up considerably. Our last turn off of the Trace was for the double arch bridge where we stopped for pictures. There were lots of wild turkeys running next to the road with their bright red gizzards flapping. Soon we were at the end of the Natchez Trace Parkway. It was very understated with the same sign at the end as at the beginning. No fanfare or signs of congratulations. No problem though. As long as the storm held out we had planned to stop in at the Loveless Cafe. Biscuits and bourbon were a wonderful way to celebrate our accomplishment.
Dawn, Ross and I had a nice meal and I watched them ride off to downtown Nashville which is another 18 miles. I sure hope they beat the storm.
Next to the Loveless Cafe is a bike shop where I stopped in to ask about the closest hotel. I got directions to a Microtel 6 miles away and rode over just barely arriving before the storm.
Welcome to Nashville!
Tomorrow I'll be riding the last 20 miles into Nashville where my friend Julie will be meeting me for a few days to explore the area. On Saturday, we will drive to Lexington, Kentucky. Luckily, Julie drives an SUV and Myrtle should fit easily. Myrtle will be left at Pedal Power bike shop for some overdue tlc for 10 days while I travel to Los Angeles to visit family and celebrate Passover.
Fall Hollow to Nashville, TN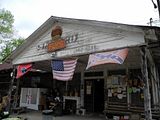 With Ross and Dawn at the Loveless cafe.
Biscuits and bourbon to celebrate the end of the Natchez Trace Parkway ride.