<LINK REL="SHORTCUT ICON" HREF="http://www.sylviahalpern.com/public_html/favicon.ico">
I spent an extra day in Kosciusko to wait out a big storm. In the morning the skies were blue and it was hard to believe something scary was on its way. By 2 in the afternoon clouds moved in and the day turned dark in a hurry. The winds picked up and the tv warned of tornadoes for the next few hours. The rains came in tremendous downpours and within minutes the hotel parking lot became a river of flowing water. The lightning was right over head and the power went out numerous times. Luckily, it always returned quickly. The weather forecasts interrupted the tv every half hour with updates. When the crazy strong lightning stopped the warning for flash floods started up. This went on until I went to bed.
In the morning I was relieved to see blue skies. I got packed up and on the road by 9 am. Oh boy it was cold. The wind was coming from the north which meant a headwind too. The forecast called for temps in the 70's and I was feeling positive enough to start riding in shorts. It was 11 before that seemed like a good idea. I stopped at a rest area to find a Dutch couple with loaded touring bikes parked. They are on an extended trip to DC. My destination for the day was a fee free campground until this couple told me about a motel in Mathiston 9 miles farther along. I continued on to historic French Camp where I met a Canadian couple touring on Bike Fridays. The day had become beautiful and warm. I charged up my batteries while sitting in the sun yakking with the Canadians. They were B&B hopping waiting for thier room to be ready. The cafe at French Camp is well known for its huge sandwiches. The Willy has 10 pieces of bacon with various other meats. The accommodation at French Camp was beyond my budget and lady in the gift shop came out to ask if I knew about the motel in Mathiston. She said it is very basic motel and offered to book me a room. Very nice. The motel was only $33 and I was thrilled to stay in a motel instead of camping. It was after 3 when I left French Camp with 20 miles to go. The batteries were fully charged and I turned up the motor to get me to Mathiston before 5. I got up to 32 mph going down one hill while I was talking on the phone. Woohoo fun! The Dutch couple were sitting outside their room reading when I arrived. They invited me to dinner after I got settled. We walked to the Trace Restaurant which was serving up a country ham breakfast special for dinner. The place was packed with patrons. Our waiter asked where we were all from and then asked where Holland is. When I said it was in Europe he said he really wanted to go up north to visit Holland. Nothing like experiencing authentic American ignorance with these Dutch travellers.
We walked back to the motel and said good night and goodbye since we didn't really know if we would see each other in the morning.
Kosciusko to Mathiston, MS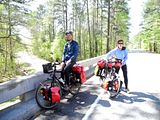 Dutch cyclist heading to DC.
Canadians B&B hopping up the Trace on Bike Friday's.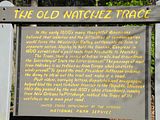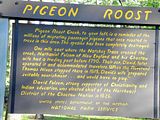 Old Trace historic exhibit.