<LINK REL="SHORTCUT ICON" HREF="http://www.sylviahalpern.com/public_html/favicon.ico">
I rode 22 miles into Nashville letting the GPS plot a course through many lovely neighborhoods. What a nice surprise the Club Hotel is! This hotel is 2 miles from downtown but well worth a stay. $65 a night includes a full breakfast and cocktails from 4-6 pm. The room was recently updated and very comfortable. Myrtle was tucked away in a hall where some work was being done. Julie arrived very late Wednesday after driving down from Chicago. It was nice to be with a good friend. We spent the next 2 days exploring Nashville and it's music. We walked from bar to bar listening to one great honky tonk band after another. On Friday we did a tour of the area going to Franklin, Leiper's Fork and driving the last 8 miles of the Natchez Trace ending again at the Loveless Cafe. I love that place. Leiper's Fork is a really sweet boutique town where lots of country music stars live. Some of the surrounding estates displayed fabulous wealth.
Saturday we drove to Lexington, KY to my sisters house. Myrtle fit in the SUV like a glove. My sister Deborah had already flown to Los Angeles so we had full run of the house. I had made arrangements to drop Myrtle off at Pedal Power bike shop. They would replace the rear chain and cassette, one of the shifters, bleed the brakes and tighten up the motor chain. John was very agreeable to everything I suggested and equally ok with keeping Myrtle while I travelled to Los Angeles for 10 days.
Julie and I spent Sunday walking around the Ashland neighborhood enjoying all the historic homes. The weather was terrific and perfect for walking. Julie and I had a really nice visit. She drove home later in the day.
On Monday I flew to Los Angeles. My aunt surprised the family by offering to host a Seder dinner this year. This is a huge amount of work and I wanted to get to LA early enough to help out. My sister picked me up from the airport and we all set about getting the meal and house ready for Friday night. It all turned out great. We had just enough room for the 21 people that came and shared the Passover meal. There was lots of clinking of wine glasses and singing of songs. It was a very lovely evening.
While I was in LA I met up with Bennington College friends I haven't seen in 20 years. That was wild and delightful. This all came about because of Facebook. Many people just happen to be in Los Angeles at the same time. It was really fun seeing everyone again.
10 days passed too quickly and then it was time to return to Lexington, KY. One thing I reluctantly wanted to take care of was going to a Weight Watchers meeting. Somehow there just wasn't time before I left. After all the wonderful meals I've eaten over the last 2 weeks I wasn't sure getting on the scale was such a good idea. Hush puppies, hash brown casserole, bourbon, whiskey, wine, matzo brei, chopped liver and brisket for starters. I was going to have to face it sometime and went to a meeting in Lexington. I was ready to have gained 4 pounds and was shocked to have lost 0.2 pounds. That was a very pleasant surprise and got me excited to continue with the program.
One of the highlights of my return to Lexington was meeting up with Larry Varney. He drove into town and we had very nice lunch together which is pictured at the top of the page. We've been following each other online for many years and it felt like I was meeting an old freind. Larry has worked for Bentrideronline for many years doing informative reviews of trikes and gear. Larry also took Myrtle for a spin giving her a thumbs up. I think he really liked the motor. Larry is a triking legend and it was terrific to meet him.
I'm now eager to get going on the next leg of my tour. I have so many options for where to go next it's been a tough decision. My sister's house is a days ride from Berea where I can pick up the TransAm bike route. I received the Adventure Cycling maps for Berea KY to Pueblo, CO. Now I'm just waiting for the weather to improve. There has been a daily deluge with powerful thunder storms that doesn't look to clear until Wednesday May 4th. I expect to make that my first ride of the next tour - westbound on the TransAm.
I'm going to make the upcoming TransAm tour it's own journal. Clicking on the forward button at the top of this page will get you there or go to the Journals page. My plan for this tour is simple. I'm going to ride until the weather in Portland turns nice. Where ever I am I'll rent a van or truck and beeline the rest of the way. This usually happens the beginning of July. It looks like I'll ride west for around 6 weeks. We'll see how far I get.
Segue to TransAm Tour with a break to visit family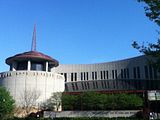 Julie with new Chicago friends at a honky tonk bar in Nashville.
Country Music Hall of Fame, Nashville, TN.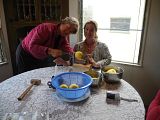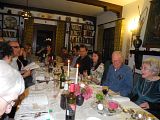 Aunt Eve leading the Seder.
With Deborah coring apples to make haroset.