<LINK REL="SHORTCUT ICON" HREF="http://www.sylviahalpern.com/public_html/favicon.ico">
I had a very nice stay with Don and Becky. They let me do long over due laundry and I felt ready to take on the next stretch of the Trace. I even found camp fuel. I was on the road by 9 am Sunday and it was already warm enough that I didn't need socks or a jacket. I took State St the 7 miles back to the Trace. I had to pull over at one point because a house was being moved. Many police cars cleared the road block by block. It didn't even look like a house worth moving. Being Sunday there wasn't much traffic. Surprisingly, there was quite a bit of traffic on the Trace this morning. This lasted for a few miles and then quieted down. The route goes along the Ross Barnett Reservoir which is huge. The views were terrific with lots of birds. There were also lots of motorcycles out enjoying the beautiful weather. I continued on with a growing tailwind. I couldn't have asked for a better day. Even though there wasn't much traffic the driver of a small red convertible decided to flip me off as he passed. On a bike route? I can't remember the last time that happened. My only chance for topping off the batteries was a Ratliff Ferry which is at the north end of the reservoir. There was probably 100 Harley's parked in the lot. There is a boat launch, campground and restaurant on the water. I found an outside outlet and charged up for an hour while making lunch at a picnic table. Most people who approached couldn't understand what I was doing. Funny enough I've had lots of people say they've seen another bike just like mine a couple of days ago. I know they are referring to Dave riding his Gold Rush but I would never say our bikes look the same. Too funny!
I continued on waving at bikers out for day rides. This rode has beautiful asphalt and is very flat. Suddenly, a few Bachetta recumbents come from the other direction. Jim Snider stopped to chat. He owns Ride South a recumbent bike shop in Jackson. It never occurred to me that Jackson would have a recumbent bike shop or I would have looked it up. He is also going to do ROAM on a Greenspeed Glyde this summer. I said I would look for him in Portland. Jim is the second person I've met on this ride that is doing ROAM - amazing!
The rest of the ride into Kosciusko was fantastic. Apparently the Trace was chipseal until a few months ago. Nice improvement! The tailwind grew to 25 mph literally pushing me into town. I checked into an America's Best Value Inn for $47. The manager told me about a guy, also from Portland, who stayed a couple of days ago riding a bike just like mine.
The weather today was fabulous but tomorrow there is expected a powerful thunderstorm with strong winds, hail and possible tornadoes. I booked in for 2 nights.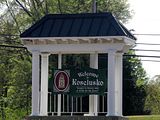 House being moved down State St in Jackson.
Last shot of sweet Willow.
First sighting of the Ross Barnett Reservoir.
Jim Snider owns Ride South - a recumbent bike shop in Jackson.
Site with 1200 year old burial mounds.
Another view of the reservoir.