<LINK REL="SHORTCUT ICON" HREF="http://www.sylviahalpern.com/public_html/favicon.ico">
Of all things to keep me awake camping, a family a hooting owls was a first. They were very loud but it also felt special to hear them in the nearby trees. It was a relief when the morning wasn't as cold as yesterday. Suzie and Roger invited me into their RV for coffee which I was grateful for. I still haven't found camp fuel and didn't have a way to boil water. I said goodbye to my new friends and got on the road around 8:30 with overcast skies.
The Trace continued to be a lovely bike route. The landscape is natural wooded areas with meadows crossing the occasional creek or river. There aren't even any electrical wires. The road surface is also very nice with very little traffic. Every few miles there are on and off ramps to nearby small towns but I didn't see any. Today the only town with services was Raymond. There were many markers and turn outs for Trace history. Civil War history touches all points of the Trace with Ulysses S. Grant figuring prominently. Some of the side roads have carried traffic since the early 1800's. For me, the beautiful scenery was the star. The ride was very enjoyable with shallow rollers. The sun broke in the late morning when I pulled into Dean's Stand Site that has served travelers on the Trace since 1820. I used a picnic table along side a creek to make some lunch. No one else was there.
I continued on another 20 miles into the town of Clinton which is a suburb of Jackson. It was getting quite warm with temperatures rising into the 80's. Checking my GPS I saw a Starbucks was close to the Trace and swung off. A few day's ago I had made contact with Warm Showers hosts in Jackson. Don and Becky were expecting me but I needed detailed directions to their house. After ordering a soy latte I called Don. I still had about 20 miles to go but my hosts were going to be busy until later so there wasn't any hurry. Eventually I made my way back to the Trace where traffic really picked up getting into Jackson. My general knowledge of the southern US is worse than I thought. I didn't even know Jackson was the capital of Mississippi until I got here. Back in St. Francisville I was expecting a package. When it didn't arrive I asked to have it forwarded to Jackson thinking it was a small town. It's good to learn new things!
I didn't take very good notes and couldn't follow what I had written. My shorthand was a little too short as I took the first off ramp into Jackson and found myself on I-55. This isn't the way Don told me to go and I can't recommend it. When black women were yelling 'Bless you my child' from their cars I knew I was in trouble. It was a great relief to get off the highway and still be able to follow Don's directions. Don and Becky live about 7 miles off the Trace in a sweet neighborhood. Their home is on a regular corner lot and full of pets. 2 dogs, 5 cats and a miniature horse. Willow is a celebrity in Jackson to the point that the tourist trolley bus comes by. I fell in love with Willow as soon as I saw her. This small white horse seemed like a magical, mystical unicorn quietly grazing on the lawn. Becky also has a large garden. I was shown to my room with it's own bathroom and given the wifi key. After I got settled I was invited to dinner that included veggies from Becky's garden. Very delicious. Don and Becky are vegan and I was looking forward to picking their brain about this lifestyle. Don really wants to do the Great Divide bike route and we talked touring enthusiastically. Especially how to eat nutritiously on the road.
Don and Becky graciously allowed me to stay 2 nights. I wanted to explore Jackson while I pick up a package and find camping fuel. There is a food coop close by and it will be nice to load up on organics for the next stretch.
Rocky Springs CG to Jackson, MS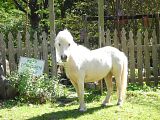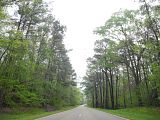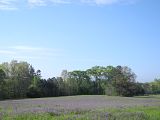 Cool morning on the Trace.
Jackson - capital of Mississippi.
Becky with Willow the miniature horse.
Lovely Warm showers hosts Don and Becky
Willow at the back porch.