<LINK REL="SHORTCUT ICON" HREF="http://www.sylviahalpern.com/public_html/favicon.ico">
My friendly Quebecois neighbors invited me over for espresso first thing in the morning. There are advantages to having an RV. Inspite of being a very warm night, I slept surpringly well. There was no wind and the tent was dry which made packing up easy. The temperatures are expected to be in the 90's again today. It was already warm when I took off. There was a steep climb to get out of the park. I think I used an amp getting back on the Trace.
Today I would be riding through 3 states. This was very exciting. I stopped at the Bear Creek burial mounds exhibit where I, again, met the Canadians touring on Bike Fridays. They had stayed at a B&B in Belmont which is a bit of a detour off the trace. We also met Mark who was cycling south to Tupelo after having completed the Trace. He told me that Cherokee was a good size town about 20 miles further on. Today's ride was just beyond the capacity of my batteries and I needed to find a place to charge up. Cherokee sounded like a good place to stop for lunch as well.
The first state crossing wasn't far and soon I was in Alabama. The Cherokee exit was perfect timing. There is a gas station 1/4 mile on highway 72. I was able to make up some lunch from food I had with me while charging up the batteries. There were lots of Harley's out today and apparently there was a bad accident with ems tending not far away. I made phone calls while waiting and soon was back on the road. It was another 15 miles to Colbert Ferry where I stopped to use the bathroom. I was glad I didn't count on this place for electricity. There is an information building which has electricity but it was closed and looked like it had been closed for a long time. There is also a bicycling campground here. As long as they keep the bathrooms open at night it would be a lovely setting for camping. I left there and continued on across the Tennessee River. There was a group of Harleys parked along the river and I pulled in to ask if I was in Tennessee. They had a good laugh that I had ridden across the country but didn't know what state I was in. It wasn't Tennesse yet and I continued on until I met Jim Culligan who was waiting for his cycling buddies for a local ride. We chatted for a long time and then he asked if I wanted to meet Tom the Stone Talker. He explained that Tom has been building a tribute wall for his great great grandmother for a long time and the wall is a big deal. Okie-dokie. It was only another 2 miles to Tom's and practically on the Trace.
Tom Hendrix was a huge surprise. The guy is turning 80 this year and has been building a tribute wall to his great great grandmother for over 30 years. His great great grandmother was swept up in the Trail of Tears and shipped off to Oklahoma with all the other Yuchi Indians in the 1800's. Somehow, this woman escaped and decided to walk home. It took her 5 years to find her way back to Alabama. Tom has built an enormous wall to describe and commemorate her journey. Just today he laid 3 tons of stone. All the stones are found in creeks, riverbeds and pastures. He moves each stone himself without any help. Everyday people from all over the world come to see his wall. Today he had more than 100 visitors but talked to me for over an hour as if it was the first time he was telling the story. After all the work he has put into building this wall he doesn't consider it his. It belongs to everyone who visits. Recently the wall was included in the library of congress. Check out 'ifthelegendsfade.com' for more about Tom's story.
I left Tom's place very moved and couldn't shake what I had seen. I felt like I had just lexperienced a chapter in a Carlos Castenada book. It was truly one of the most amazing things I've encountered on this trip. The place had a strong spiritual feel and I left with a sense of peacefulness. I arrived at the Tennessee border still full of what I had seen and took pictures almost in a stupor. It wasn't much further to Collinwood where I had reserved a $50 room at Miss Monetta's Country Cottage. Diane and Larry were expecting me. I was the only person staying in a very new cottage in back of Diane's beauty shop. There was a choice of three rooms each beautifully furnished.
The Canadian couple on Bike Friday's were staying in another cottage down the street. Dawn and Ross came by to see if I wanted to go out to dinner. We went to Chad's for a nice meal. Getting back to the cottage we reviewed our ride details. It seems that the 3 of us are headed to the same destinations for the next couple of days. Since the government didn't shut down we will be able to complete the Natchez Trace. It was a long day and I was looking forward to a good nights rest.
Tishomingo State Park, MS to Collinwood, TN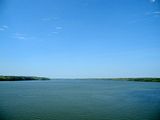 Mark had already completed the Trace and was heading south.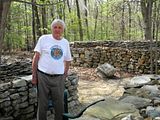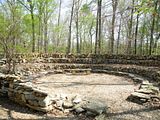 Tom Hendrix - the stone talker.
Jim Culligan took me to see the stone talker.
Sacred prayer circle with 4 layers representing birth, life, death and rebirth.