<LINK REL="SHORTCUT ICON" HREF="http://www.sylviahalpern.com/public_html/favicon.ico">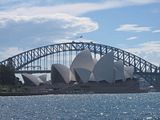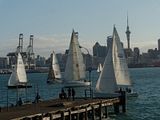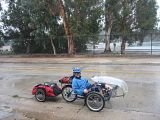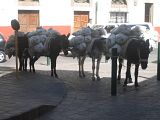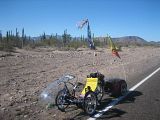 History of a Tour
At age 48, I quit my job, sold my house and nervously closed the door behind me to start my first cycling tour. It was July 2007 and my plan was a simple one: ride as long as it was fun. I started by going north from Portland Oregon to the San Juan Islands outside Seattle to visit a friend. I was so close to Canada I extended the ride north to include Vancouver Island. Then I turned around heading south and made it all the way to Guatemala. I had a magical time traveling in Mexico for 6 months. As I entered Guatemala I started hearing stories about bandits attacking cyclists and got spooked. I didn't feel safe traveling alone in Guatemala so I packed up the trike and headed home.
My first 9 month tour was so much fun I wanted to continue and within a couple of months I started out again. In October 2008, I flew to New Zealand and Australia for another 9 month tour. It was on this trip I discovered that the trike didn't have to be boxed for air travel. Air New Zealand took the trike 'as is' at no extra charge. Very nice. My tour through Australia started in Adelaide, South Australia and I rode around the east coast up to Cairns in Queensland. This ride was essentially a pubcrawl. Camping in Australia is fairly expensive and often for just a few dollars more I could stay at a pub. Almost all pubs have accommodation and this was a really fun way to see the country. The rooms are simple but clean, comfortable and reasonably priced. Most pubs are centrally located and also offer a hearty, inexpensive menu.
After returning home again I took stock and felt eager to continue touring. In October 2009, I went to SE Asia flying into Hanoi, Vietnam. I rode west through the mountains of northern Vietnam into Laos going south into Cambodia. At Phnom Penh I rode east back into Vietnam to tour the Mekong Delta. My route then went to the coast of Cambodia and on to Siem Reap which was very cool. Then I rode the short distance into Thailand where I spent 2 fabulous months riding along all the famous southern beaches. The weather in Thailand was crazy hot and after 2 months I had enough escaping back to Oregon.
In 2007 I had no idea how far I would get and never expected to still be on the road years later.