<LINK REL="SHORTCUT ICON" HREF="http://www.sylviahalpern.com/public_html/favicon.ico">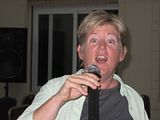 My biking story follows a dramatic life changing event. At age 43, I had surgery to remove a benign brain tumor (prolactinoma). The tumor had been producing hormones and steroids on its own at random times through out the day which caused me all kinds of problems. This hormonal havoc had gone on for more than 2 decades before surgical techniques advanced and the tumor could be removed. The surgery was very successful and, truly, gave me a new life. It took a couple of years to completely recover but I was able to start exercising after about 6 weeks.
When I felt well enough I bought a Cannondale hybrid and began commuting to work. The ride was about 15 miles round trip mostly on a railtrail along the Willamette River and I loved it. Before long I put clipless pedals on the bike and felt like 'a real biker'. I was so proud. It was about this time the world of bike journals opened up to me. I became a bike journal reading addict and started dreaming about doing longer distance rides.
As I continued riding my body began complaining beyond a certain number of miles. I had a lot of wrist, neck, shoulder and butt pain if I rode much more than my 15 mile commute. I got myself to a bike shop to be measured and made the recommended adjustments but nothing really helped. Somewhere, somehow, I discovered recumbent bikes and never looked back. After considerable research, I ordered a long wheel base Fold Rush expedition model with a fairing. What a beautiful bike. It is very fast and comfortable. I was able to fold it up for transport on the back of my car. I also discovered the recumbent community. This is a tight knit and very active group especially in the Pacific Northwest. This bike introduced me to a whole new world.
Over the next few months, I continued my local rides and commuting to work. I did great as long as I didn't have to climb hills beyond an easy grade and length. I kept dreaming of touring and knew if I was going to do a long distance ride successfully I was going to have to deal with hills. My plan was to keep riding, lose weight and hill climbing would get easier. 6 months went by and not much changed. I felt like if I stayed with it a few years I would eventually build confidence and get comfortable with the hills. But I didn't want to wait that long. I wanted to start touring sooner. It was at this point I started looking at trikes. I test rode one on the Monster Cookie charity ride and at the Oregon Human Power Vehicle (OHPV) races. Oh my goodness trikes are fun. It's like riding a high performance go-cart.
After much research, I settled on a Greenspeed GTO. This is a high end trike especially designed for touring. Within a month of buying the trike I did a 2-day tour to the recumbent retreat on the Oregon coast. My route included getting up and over the coastal range. The hills were no problem at all. This trike has a SRAM dual drive hub providing a whopping 81 gears. Someone once said you could ride it up a tree. With so many gears I could ride as slow as I needed. I could also stop and rest on the hills and get going again when I was ready. It was clear I had found the bike I needed for long distance touring.
Now it was time to start planning a trip.