<LINK REL="SHORTCUT ICON" HREF="http://www.sylviahalpern.com/public_html/favicon.ico">
My stay in Sukhothai was short and sweet. I could have stayed another day but when I got up I felt like pushing on. The Sukhothai Orchid hotel was comfortable and offered breakfast. Yesterday's breakfast was an interesting Asian buffet with a variety of noodle dishes in a large room off the pool. Today's breakfast was in a very small room and I ordered porridge off a menu. I got packed up and on the road by 8 am knowing the ride was going to be more miles than usual. After yesterday's increased speed I was eager to see what would happen today.
On my way out of town I ran into Italian Anna. She recognized the trike and jumped out of a tuk-tuk to say 'hi' on her way to the train station. That was really fun! I retraced my route from yesterday out to the historic park and then followed the signs to Tak. This was another very flat ride. An hour into the ride I found a road side stall selling sticky rice stuffed sugar cane and bought 4 sticks. I took highway 12 all day stopping in the small towns for lunch and drinks. The towns were very poor with locals living in shacks covered with corrugated tin roofs or thatching. It seems like this was the poorest area I've seen yet in Thailand. The road was in terrific shape and the scenery kept me entertained with lots of people working in the rice fields. I had many people ask me to pull over for pictures while I was riding and many more in towns. My lunch was a non-stop photo op with mothers posing with their little children. There must have been 15 cell phones clicking away at one point. Everyone had a good time and waved me off down the road.
It was a good ride and I arrived in Tak before 3 to start looking for a hotel. Tak is a junction town on the Ping River at Highway 1. It is also very close to a border crossing in Myanmar. Another 60 miles and I could be in another country. I looked at a few hotels but wasn't thrilled and kept on until I arrived at the ViangTak Riverside. This is clearly the best place in town with river views and I got checked in for $20 including breakfast. I had heard this town is nice and booked in for 2 nights. After getting settled I looked at the stats for today's ride. Interestingly, my speed for the ride was exactly 11 mph. This is a big improvement and I am thrilled with my new found speed. I feel like I'm suddenly able to ride with more momentum and this is making the cycling faster and easier. It didn't feel like I was working harder either.
While I was out looking for dinner, I passed a medical clinic and decided to see if I could get on a scale. The doctor spoke fluent English and didn't hesitate when I asked to check my weight. I was hoping for loss but it seems my weight is holding steady and that is always a relief.
I had a few things to take care of in Tak and sights to see. While I was doing some trike maintenance outside the hotel an energetic Thai woman came over who spoke excellent English and runs medical clinics in England. When I told her I lived in Portland she told me her mom had been part of a delegation that gave the Portland Zoo 5 Thai elephants in 1957. Her mom had received the keys to the city of Portland. What a small world. I told her that an elephant had given birth over the summer and the arrival of baby elephant Rosie was a big deal. It's possible Rosie is the granddaughter of one the elephants this woman's mom brought to Portland. I invited her to come back to Portland for a visit.
I had heard about a temple that offers massage for $3/hour. You are expected to tip generously but this sounded like something not to pass up. The hotel had also heard about it and gave me directions. The temple was very close and I walked over. Unfortunately, the monks at the temple didn't know what I was talking about and I left without a massage. I'm sure this was a language failure and probably should have asked someone at the hotel to write down what I wanted for the monks to read. Something to remember for next time.
I have been thinking about my next destination on the route. There isn't an easy way for me to get to the next town with a hotel. From here the road starts to go up into the mountains. Even though the road doesn't start off with big inclines the miles are out of my comfort zone. I'm thinking of taking a bus to Lampang and riding to Chiang Mai from there. I took a ride to the bus station to see about the schedule and how much they would charge for Myrtle. The buses run almost every hour and it is only a 2 hour bus ride. Myrtle wasn't an issue.
The next morning, after enjoying another fabulous breakfast, I got loaded up and headed to the station arriving in plenty of time for the 8:30 bus. I've been having an issue with my right fender coming loose over the past few days. Today it became so loose I had to remove the fender while I was riding and carried it into the bus station. Unfortunately, the cargo hold for the 8:30 bus was full and there wasn't enough room for Myrtle. No problem. I could use the time before the next bus to fix my fender issue. Well, a tuk-tuk driver saw that I needed a ride and offered to take me at a very reasonable rate. We loaded up Myrtle on top of the tuk-tuk and we waited a half-hour for more customers. I could swear I heard the driver saying 'Lampang, Lampang' as he was walking around the station. I also thought I heard other people in the tuk-tuk ask the driver 'Lampang?' and he nodded yes. We started out and right away he turned the opposite way of where I needed to go. Maybe he was looking for more customers. I turned to others on the tuk-tuk asking 'Lampang?' and no one spoke English but they nodded yes. Of course, I knew I was in trouble when one of them got off a few minutes later.
The tuk-tuk ended up taking me to another bus station 65 miles south which is 65 miles further from where I wanted to go. I not exactly sure what happened but now I had to figure out how to get out of a town I had no desire to be in. Luckily, there was a woman at the ticket counter who spoke English and helped me. She asked if I could fold up the trike and then got me on a bus at 11 am. At 12:30 the bus pulled into the Tak bus station where I started the day. We only stopped for a few minutes and then pushed on. Unfortunately, this bus didn't stop in Lampang and so I ended up going all the way Chiang Mai. The crazy tuk-tuk driver seriously changed my day and itinerary. Now I was in Chiang Mai 2 days earlier than planned. I've got a lot to take care of here so maybe this is a good thing.
It took awhile to get Myrtle put back together with the bags. There was a large crowd of tuk-tuk drivers and tour operators standing around the Chiang Mai bus station watching me work. When I finally got everything in place a big yell went out and they all clapped. These guys were very excited. They told me how to get into town and gave me a wonderful send off.
Sukhothai to Tak and bus to Chiang Mai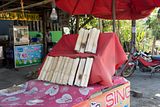 My favorite cycling food - sticky rice.
Coconut shreds ready as kindling.
Many animals arrived at the Shrine of King Taksin.