<LINK REL="SHORTCUT ICON" HREF="http://www.sylviahalpern.com/public_html/favicon.ico">
I was eager to get going after a 2 night stay in Phitsanoluk. My route today would take me to Sukhothai which feels like I'm entering the north of Thailand. This is a place that holds a lot of intrigue for me. I've heard so much about the north of Thailand and am really looking forward to seeing it.
The road today was totally flat. I think there was less than 100 feet of climbing for the whole day. It was mostly rice fields dotted with the occasional water buffalo. I met a Russian guy out for a day ride. He was in Thailand visiting his girlfriend which sounds very complicated to me. There were plenty of places to pull over for snacks. I easily found my new favorite cycling food, sticky rice. At lunch, a monk gave me a sugar cane stuffed with sticky rice. It felt really special to get a gift from a monk. He had me hold out my hands so he could drop the sugar cane to avoid touching me. No touching the monks!
After 39 miles, I pulled into Sukhothai and started looking for accommodation. First, I wanted to check out some of the hostels and guesthouses. Sukhothai is such a big tourist destination I thought it would be fun to stay at a place where there would be other travelers. Unfortunately, the guesthouses I looked at didn't feel right. They seemed dreary and empty. It was only 3 pm and, perhaps, too early in the day. I ended up at the Sukhothai Orchid hotel right downtown. The reception gals let me keep Myrtle in the lobby. My room was comfortable and I got checked in for $15. After getting settled, a big bus of Thai tourists arrived. I went to the hotel restaurant to see what they had to offer for dinner but I wasn't impressed. Some of the Thai guests were going out to eat and I followed them. They asked around and led me to a wonderful restaurant called Tapug. I followed the Thai people for so long they thought I had a crush on one of the older guys. A lady pulled me over to the table to ask if I liked the guy. I gave him a big thumbs up. Too funny!
The big attraction in Sukhothai is the historic park. It is about 8 miles out of town and the next morning I rode out there. This is the perfect place to take a bike. The park is so big that doing it on foot would be exhausting. It was a beautiful day and I really enjoyed exploring all the history. I met quite a few people while checking out all the wonderful ruins. A young, outgoing Dutch guy, Jack, introduced me to some gals he had met earlier and then invited us all for drinks later on. We met up at the Dream Cafe which is almost across the street from my hotel. Anna from Italy, Constanza from Germany and Jack from the Netherlands, all solo travelers. They all spoke English fluently. We really had a nice time and even though it was only a few hours I felt like I had made new friends. We all exchanged emails and invited each other to visit our home countries.
Tourist towns are totally different from the towns I ride through between them. There is a different energy and excitement. It's fun to meet other travelers and these towns cater to Westerners offering more English. I thoroughly enjoy the smaller Thai towns but I feel like I'm on vacation when coming to these tourist towns.
Another thing of interest today was my speed on the trike has suddenly increased. I have always ridden between 8.5 and 9.5 mph. It has never made any difference if I am carrying bags or riding unloaded. I have lost atleast 80 lbs since I started triking and that has never made a significant difference to my speed either. Today's 16 mile ride out to the park and back was at 11.4 mph. Not only that, but it was easy to keep a constant 80 rpm cadence - for the first time. All I've ever wanted was to have a 10 mph average so this is a very welcome improvement. It will be intersting to see if this increased speed continues.
Small crabs grilled at the road side.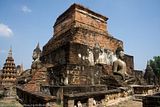 The park is huge and some ruins were on islands in a lake.