<LINK REL="SHORTCUT ICON" HREF="http://www.sylviahalpern.com/public_html/favicon.ico">
In the morning we couldn't get out of the Kimotel fast enough. The smell of mothballs was in everything. The one nice thing about the hotel was that the trikes were in a back room with easy access. We rode into the little town of Bagan Serei looking for something to eat and some wifi. There was a market going on and when ever we stopped a big crowd formed. Kathryn was trying to get in touch with Khalib to see where we should meet. They started texting but then Khalib called. His English is difficult to understand and with the crowds it was impossible. Kathryn had to escape to continue with the call and this was quite stressful. A man in an indian place offered wifi and we pulled in. Unfortunately, he gave us his sisters username and password for a private wifi service that also needed an email address. This he didn't have. Oh well. The roti was delicious and we continued on the road to find Khalib. He was biking and we figured it wouldn't be hard for him to find 2 trikes. Within 5 miles there he was with a beaming smile on a loaded touring bike. Khalib and his freind Aswad had just finished a world tour last July. They were trying to beat the Malaysian record of 381 days. Unfortunately, they weren't able to get visas for Iran and couldn't complete the trip. They spent a month in Iran trying too and the rest of the trip took them 389 days. With that visa they would have had the record - bummer.
Khalib not only had touring bags on his bike but they were full as if he was starting another trip. Fun guy! He was patient with our turtle pace as he escorted us the 20 miles to his home. The terrain was fairly flat through lush date palm plantations, durian and papaya orchards. We were welcomed into his home by his wife and 3 children. The home was simple but Khalib made us feel very comfortable. His wife was shy and didn't speak much English although I think she understood quite a bit. She made us delicious meals.
We spent 2 nights at thier home and Khalib took us to a big party with many of his cycling freinds who were celebrating a durian festival. Durian is one of the stinkiest fruits I have ever come across. Durian is so stinky that it is forbidden to bring into public spaces, buses or the subway. Many hotels also won't allow it. This is one of those foods that people either love or hate. I've seen woman at rest stops eating thier durian while the husband and kids sit in the car. Too funny! Everyone wanted us to try the durian. We did try durian juice in Singapore and I gagged after half a sip. Maybe the fruit isn't as bad as the drink? Kathryn was game to try it again. One bite and her face couldn't hide the repulsion. I certainly wasn't going to try it after her reaction. But it was all good fun and everyone got a real kick out of the whole thing.
After the party Khalib wanted to drive us to the ferry station so we would know the way. This was very sweet but I didn't want him to drive so much besides we are well practiced in finding our way. This turned out to be very lucky. Before going to the party we had done laundry and put it all out on the line to dry. Within minutes of returning back to the house a huge thunderstorm broke out. We were able to pull everything inside. The storm was so strong that Khalib turned off the power to the house. It was a loud and violent storm that lasted a few hours. I, for one, was happy we weren't on the road and to have clean laundry. I also enjoyed sitting in the quiet home without tv, radio or computers simply watching the rain come down.
Khalib with his wife trying out Myrtle.
Khalib meeting us on the road.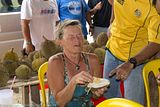 Durian festival with Khalib's cycling freinds. Yeah, we blended.
At the park in Taiping with Khalibs family.