<LINK REL="SHORTCUT ICON" HREF="http://www.sylviahalpern.com/public_html/favicon.ico">
In the morning I went out to the street to find a bustling market. I stopped at a noodle stall where the women were all wearing unusual traditional dress. Their apron had an intricate attachment with numerous strings and the colors were more muted than most I've seen so far. The stall was busy and everyone stared as I ate. I would look up and give everyone a big smile and then look back at my noodles. After breakfast I wanted to say goodbye to the young gal that paid for my room. Using Google translate I asked for her address. At least I can send her a postcard. The place was very busy with men coughing loudly, spitting and smoking. I was very happy that I didn't stay there. This 'hotel' probably cost only $5 a night and one guy was driving a full size brand new Hummer - crazy! I went back to my hotel to get packed up and didn't get any response at attempts to say thanks and goodbye. I don't really understand why I'm getting this unfriendly attitude. It feels learned and ingrained and definitely because I'm western.
With all the climbing yesterday I was looking forward to an easier start. The road would go down and then go back up. It was a lot more climbing than I was expecting. Finally, I had a good downhill through beautiful forested landscape with tea plantations covering the hillsides. The G213 is a really wonderful road. Since it parallels the expressway there isn't much traffic. I went passed Wild Elephant Valley which is a large tourist park where I doubt there are any wild elephants. The parking lot was crowded with tourist buses. I flew passed and a little farther down a guy was parked in a brand new BMW asking me to pull over for a picture. I saw he had a USC alumni sticker in the window and thought maybe he would speak English. He didn't go to USC or speak English but his enthusiasm was entertaining. I also had a long conversation with a family doing a road trip from Shanghai. We used Google translate and I was surprised how patient and interested they were.
I stopped for tea and was, again, refused. Then I stopped for food and the people were incredibly rude. They were standing in a small circle pointing at me and my stuff laughing and making fun. I made the universal signs for food and they just laughed and refused to acknowledge what I wanted. I was traveling through a very small, very poor village. I have money in my pocket but they didn't care and weren't getting any of it. Luckily, I had enough dried fruit and nuts for the days ride.
I rode through a fairly large farming community that felt like it was in a valley. Woman were selling bananas and they generously gave me a few. Actually, they gave me so many I had to give some back. I was riding so slow it felt like my parking brake was on. My legs were feeling like lead. Once I got through the valley the climbing started again. I had 15 miles to go and wasn't feeling like I wanted to take the time to do it. Then I did a very strange thing. A mini van honked as it passed and my arms shot up in the air to ask him to stop. And he did. I had no idea where he was going or if his van was empty but I asked him for a ride into Pu'er. This was totally spontaneous and wasn't part of the plan for the day. I walked over to his window and saw that the van was empty. He was clearly on his way to do something and I needed to offer him enough money to make it worth his while. I offered him $15 and he talked about it for awhile. I have no idea what he was saying but eventually he opened the van. All I did was take the flag off. He picked up the trike with the bags and rolled it on in. The rest of trip was all climbing and I was very grateful for the ride. What a relief! He dropped me at the outskirts of town which was perfect.
Back in Jinghong I had noticed that many of my rear spokes were loose. I took the time to tightened them just a bit. As I got going again I noticed that the rear wheel was so out of true that the rear brake was silently rubbing. No wonder it felt like I was riding with the brake on. I took the brake off and the riding was much easier. Now I needed to find a hotel. I rode into town and started looking. Hotel after hotel sent me away. These hotels weren't foreigner approved. What's crazy about this system is there is no sign on the hotel that says it is or isn't foreigner approved. There also isn't a website travelers can go to for a list of approved hotels. All you can do is go hotel to hotel until they say yes. Each hotel was more and more expensive. There are phone calls and a lot of discussion which takes time. It's not like I walk in and right away they say no. After 6 hotels sent me away I was in tears and stopped a policeman. He pointed down a road which I followed to a big fancy place that looked to be far beyond my budget. I went to the front desk for grins and someone who spoke English was called. This young woman quoted me 1,380 RMB. I repeated it a few times completely surprised that a room could cost this much. The young woman seemed to welcome the opportunity to practice English and we chatted for awhile. Then I took out my currency converter to see it was $220. Wow! I showed the woman how much in dollars the room rate is and she said - oh no, the price is 380 RMB ($62.00). OK - that is almost affordable. So then I asked if they could drop the price and right away it went down to 250 RMB ($40). I said you have a deal. They had plenty of room for Myrtle and I was very happy not to have to continue looking. This is a very nice hotel and what a difference from last night. I booked in for 2 nights to check out this famous tea town and get some rest.
Boy o boy am I feeling stressed out about traveling through China. Everything is so difficult. Between being refused service for food and then having so much trouble finding an approved hotel I feel like I've reached my limit. It's hard enough after a long day of cycling to find a hotel, get settled and cleaned up and then find my way around a new town. Throw additional obstacles into the mix and I'm not having fun. I don't expect everyday to be great but I'm crying everyday here. It's not the riding, it's the people and also that I'm doing this alone. I'm sure I'd be feeling differently with company. Right now, I'm thinking about taking a bus to Kunming and calling it quits. After a good nights sleep we'll see how I feel.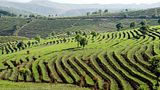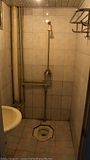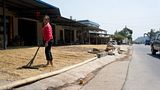 Young gal who paid for my room.
Finally got a nice downhill.