<LINK REL="SHORTCUT ICON" HREF="http://www.sylviahalpern.com/public_html/favicon.ico">
Maybe Phichit was a lot to offer but I didn't see more than a few blocks of it. I took a much needed rest day and really didn't do anything. There is a market 2 blocks from the hotel and that is as far as I ventured out. I also tried to get a massage but the reception gals couldn't help and I gave up. Otherwise, I spent time stretching my stiff hip and laying around relaxing.
The following morning I felt surprisingly fresh and ready to move on especially considering how tired I was when I arrived 2 nights ago. The restaurant offered an included American breakfast of ham, eggs and sausage but I managed to substitute toast and coffee. The hotel was nice enough to keep Myrtle in a secure room for my stay. As I packed up and was ready to push off a parade came down the street in front of the hotel. From what I could understand, today is a day for school kids to celebrate sports. The parade was well attended with a long line of participants. There were kids on bikes, others wearing traditional Thai garb carrying pictures of the King and Queen and also large marching bands. I heard the Thai national anthem and, funny enough, a good rendition of The Saints Go Marching In. One group was using a hose to breath into a keyboard instrument to amplify it. I had a wonderful time with the kids when I joined in riding my trike. The parade turned in less than a block and I was off. This was a really fun way to start the day.
Today would be the first time I would take quieter back roads. I started out and the surface was just as good as the bigger roads. Sometimes the shoulder was smaller but there was so little traffic it didn't matter. I was passed by quite a few overloaded, large sugar cane trucks. They always honked and gave me the thumbs up. The scenery was bright green rice paddies with a few patches of corn. The road on the map had lots of turns which can indicate hills but it was a very flat road. My first stop was for sticky rice stuffed into a piece of sugar cane. There was a piece of banana leaf at one end closing it off and I couldn't figure out how to eat the thing. The woman showed me how to flick out the banana leaf and then peel the sugar cane like it was a banana. Delicious and fun to eat.
The roads weren't well marked and I had to stop a few times to ask directions. I found myself on a road that wasn't even showing on Googlemaps. I stopped for coffee and the vendor assured me I was on the right road. There were many small villages and plenty of options for food and drink along the way. I stopped for veggies and rice at a road side stand where the woman spoke French and English. She had lived in France for a few years and returned to Thailand. It was fun talking to her. I've noticed that my body really responds well to rice. Every time I eat rice I seem to get back on the trike with more energy and feeling stronger. I'll have to remember that.
After 35 miles I pulled into Phisanulok which is a good sized town. It isn't really a tourist destination but I have been told there are some 'important' temples here. I'll have to find out why. I used my GPS to find a hotel which can be interesting. Since I don't read Thai I'm not always sure what I'm looking for. The Nan Chou Hotel turned out to be off the main road with a restaurant in front. Luckily, I looked a little further for a building that might be a good candidate. This hotel is large and obvious. I got checked into a very comfortable room with a nice view for $20 and they let me keep Myrtle in the dining room. The front desk staff is very nice and every time I see them they always have a good laugh about the trike pointing to the dining room.
I spent an extra day here to explore the town and temples. Phitsanulok is divided by the Nan river and there is a very nice walkway on both sides. Mostly, I just walked around visiting temples. I had an intersting experience at one where a monk showed me how to devine my fortune. He gave me a round box with lots of wooden sticks and showed me how to shake the sticks until one falls out. The stick that fell out had the number one on it. We walked over to a board where a corresponding fortune was tacked to a bulletin board. It was written in Thai, Chinese and English. The monk didn't speak English so I don't know how long the fortune is good for. Here is what is said:
What you wish will come true. You'll be patronized and happy unless you're impetuous. Honesty will bring good luck and save your subordinates from harm. Don't worry of the unluckiness you're facing, soon it all will be eliminated. In the near future, you'll meet your debtors and cousins that had long been missing. Once in a while, you'll get a piece of good fortune. Asking of a spouse, you're likely to find a good one, either it's her or him.
I'm not really sure what to make of this fortune but it was a fun experience.
I seem to get more enjoyment from watching and interacting with locals than visiting tourist sites. 2 temples was enough for me. It was been a very low-key and enjoyable day.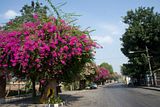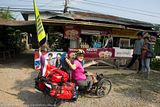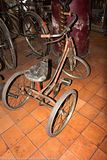 Sticky rice packed in a cool looking sugar cane stick.
At a coffee stop on a back road.
Antique tricycle in a Buddhist temple.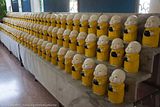 These little guys are holding donation bowls.
Old school pedal trishaw's are still in use.