<LINK REL="SHORTCUT ICON" HREF="http://www.sylviahalpern.com/public_html/favicon.ico">
I slept well and was eager to start my second day riding in China. When I checked-out I learned that the room rate wasn't $45 but $18. The rest was returned as a deposit. With that great news I almost spent another day at this very nice hotel. Since I didn't have another reason to stay I got started and went into downtown Mengla. This is a nice looking town with lots of palm tree lined streets. I stopped off at a street market and picked up a bag of clementines and empanada looking things that were filled with rice and veggies for lunch. Then I found a China Mobile store and went in looking for a 3G SIM card for my wifi hotspot. They had the 3G SIM card but it wouldn't work. Then I went to China Unicom and, again, the SIM card wouldn't work. Looks like I'll have to do some research to find out why it worked with a 3G SIM card in Thailand but won't work in China.
As I left town I wanted to stay on the road I was on yesterday but it looked like I was getting on a road where no bikes were allowed. I turned around to where I expected the road to start and then went a little further. Hhhhmmm, something didn't seem right. I stopped to ask if this was the road I was looking for and I was told yes. Since I didn't know where else to go I took the road that clearly said no bicycles. It also said no scooters, walking or farm equipment. I saw all of the above on the road and decided to try it and hope I wouldn't get into too much trouble. It was a beautiful road just like yesterday. The G213 and the Xiaomo highway are practically on top of each other at this point on the map. Within a mile I saw on the the GPS that I was on the Xiaomo Highway that I took yesterday. I didn't remember seeing that bikes weren't allowed - oh well. Right away the climbing started. But the grade wasn't steep and I enjoyed the scenery. There really wasn't much traffic either. Ever so often I could see another road down below but it looked like an old road that didn't have a shoulder. Perhaps that was the G213? I was very happy to be on this road. There were a few short tunnels again today. At the top of the second climb there was a really long tunnel. I think it was at least 1.5 miles long and a screaming downhill. Much of the tunnel wasn't lit and I'm sure that's why bicycles aren't allowed. I have good lights front and back and could see just fine. These tunnels sure would be dangerous without lights. My only real fear was getting a flat. It could happen but was unlikely and I made it through just fine. Even though bikes aren't allowed I was passed by 3 police cars and no one stopped me or even let on that they cared.
After 25 miles I found the little town of Mengyuan. This town is actually on the G213. I rolled down the main street and something about a building caught by eye. It was the wood framed sliding glass doors that made me think it might be a hotel. I looked up and saw the tell-tale sign of air-conditioners in every window. Sure enough, it was a hotel and seemed to be very new. I was shown to a huge room with 2 queen beds. The bathroom had a flushing squat toilet and a shower with extra hot water. I got checked in for $9.50. The only mark against the place was it didn't have wifi. They let me store Myrtle in the lobby restaurant. There were a table of guys eating an enormous amount of food. They were celebrating something having a good time drinking lots of wine as well.
After I got settled and showered I went looking for wifi. This is a small town and I think I met almost the whole town as I walked. I went to the grocery store for snacks and water. Then I used my Google Nexus walking from store to store following wifi signal strength until someone let me use their password. Most people had no idea what I was asking but I enjoyed going into all the stores. As I walked I discovered another hotel when a guy thought that's what I was asking for. Good to know. A nice young guy at the cell phone store didn't hesitate to give me his password and a chair so I could work comfortably.
Later I decided to go out and find some dinner. I walked up and down the main street and no one was making food. In China? Something was up. I saw what could be a restaurant on the main highway and started walking there. Then I saw where everyone was. I walked over to a building where most of the town was sitting around large tables covered with food to see what was going on. I was immediately invited in and space was made at a table with all the women. I had met most of the women earlier in the day. Everyone wanted to know my story and I felt bad that couldn't communicate. I'm studying the language a little everyday but I only know a few words at this point. The food was delicious and I enjoyed watching the festivities. They were clearly celebrating something but I couldn't tell what. Everyone was drinking peanut milk and there was no alcohol. At one point all the men at a table stood up and shouted drinking expression clinking their peanut milk cans. The kids kept everyone busy. After eating a healthy portion I thanked the people around me and quietly left.
So far in China, I haven't seen another western person. This reminds me of the first 2 weeks I rode in Vietnam and only saw 2 western people the whole time. These are small towns and not exactly tourist destinations.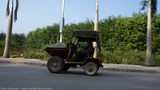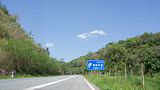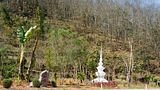 Funny bull-dozer tractor thing.
I am very relieved and grateful that the signs are also in English.