<LINK REL="SHORTCUT ICON" HREF="http://www.sylviahalpern.com/public_html/favicon.ico">
Last night I shared a shot of nasty cheap Chinese whiskey with my new Danish friends. It did not agree with me and I spent some of the night being sick. uugghh!
In the morning I wasn't feeling my best but decided to push on anyway. I knew I didn't have far to go and would be retracing much of the ride coming into town. Once I got out of town I crawled up an 8 mile climb. The scenery was nice and I took my time. For some of the ride I was keeping pace with a guy who was walking up the hill. I thought that if he were in Thailand someone would have given this guy a lift. No one stopped for him here. Exhaust fumes are always the worst on climbs and in China they are really bad. Vehicles here use a lower grade fuel that burns dirtier and often there is thick black smoke pouring from the trucks. Even with a mask I'm suffering and find it shocking that this is allowed. What China is doing to the environment is shameful and I'm traveling in the clean province.
I got a nice downhill back to the toll booth where I was turned away a few days ago but took a side road paralleling the expressway to my destination for the day. Mengyang is a fairly small town. I used Google maps to find hotels and took the first one I saw. It was old and big with lots of space in the lobby for Myrtle. I was charged $8 for a room with a squat toilet and hot water shower. As usual with hotels in China, there was no wifi. I got settled and then went for a walk around the town. I've discovered that cell phone stores have wifi and give up the password without much fuss. Again today, I was given a chair and made to feel comfortable. I wish that was true for the town. Everyone was staring so much that I didn't stay out long retreating to my room.
Sleep in China has been elusive. Tonight there were people working on cars banging away until 11 pm, karaoke, yelling in the hallway, people hacking up a lung coughing, fireworks and, as always, roosters at 3 am. Then everyone gets up so early when the music in the street and car honking starts. Even with ear plugs it's impossible to block all this out.
I woke up bright and early to get packed up. I stopped at a noodle stand where there was quite a scene going on with the transfer of water buffalo. 2 guys were trying to get a buffalo into a truck. The truck was too high and no matter how hard they hit the poor animal it wouldn't jump. Then they put the buffalo in the bed of a tractor trailer and backed it to the truck. It was still hard for the buffalo but they got it in - quite clumsily. It was painful to watch. I got up to take pictures and when I returned to the table my noodles were gone. I was almost done with them.
Today I was back on the G213 and it was a beautiful ride into the mountains. I was entering gorgeous tea country. The hillsides were covered in bright green manicured tea plants. Most traffic was on the expressway and the G213 was a quiet ride. I pulled into a small town for lunch but was refused service. This isn't the first time and it's taken awhile for me to realize that it is personal. In the past I just thought the shop owners were in the bad mood or maybe closing. Today, I understood it is because I am western. They snicker amongst themselves and laugh but won't acknowledge me. When I attempt to get their attention they hiss and wave me away. I've never had this happen in any other country and it's an ugly feeling. At one place all I wanted was a cup of tea. They didn't have any...in China...in tea country. Yeah, ok! So far, it has only happened at street stalls where they serve more than noodles or dumplings. It doesn't happen at the supermarket or fruit stands. Luckily, I had enough fruit and snacks for the day. They can snicker all they want but they aren't getting any of my money.
The climbing seemed like it would never end. It took 7 hours to go 30 miles. Much of the day I was crawling at 2 mph or less. Eventually, I made it to my destination. Googlemaps showed 3 hotels. Dudangangxiang is a small dusty town and nothing really looked good. I asked some youngsters playing pool on the sidewalk for directions and they pointed across the street. The hotel was off the street and hard to see. I spoke to young woman at the front desk through a sliding glass window into her bedroom. She didn't want me to stay but showed me a room. It wasn't too bad but the bathroom situation was more than interesting. There were a bank of showers across the parking area which looked like small closets with a squat toilet in the floor of each one. Filthy? Oh yeah. Using Google translate it seemed that this hotel wasn't foreigner approved and the young woman called another. Then she walked me over. I'm so glad she went with me because I doubt these people would have even talked to me. They hardly looked at me and I couldn't even get a hello. They were all playing Mahjong for money using a fancy table that shuffles the tiles and stacks them perfectly for 4 players in a matter of seconds. She got me checked in and then said she had also paid for the room. I couldn't believe she would do that for a complete stranger. I have had rooms covered before but by people who were of obvious means to afford it. This gal didn't appear to have much of anything. Using Google translate I thanked her and offered to take her out for dinner. She kept typing 'Never mind'. She left and I didn't know what to think. I doubt the room cost more than $8 but still. The bathroom was so small that the squat toilet was directly under the shower. I had to straddle it to shower. The situation was all quite gross but the water was super hot and I was grateful. I don't think this hotel was foreigner approved either but it was certainly better than the first one.
After getting settled I went out and found wifi at a cell store. Even though I have a wifi hotspot it is only 3G and real wifi is faster. Next I went looking for food. A fruit vender ripped me off charging me $1.50 for 4 oranges. The fruit venders in China are ruthless. But then my dinner only cost $0.75.
After all the climbing today, I was expecting a good nights rest. Of course, once the nightly fireworks end.
Jinghong to Dadugangxiang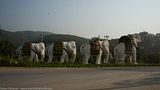 Crossing the Lincang River.
Locals playing cards and, always smoking.