<LINK REL="SHORTCUT ICON" HREF="http://www.sylviahalpern.com/public_html/favicon.ico">
Last night, after leaving the dinner celebration I went back to the hotel to do my nightly stretching. What's nice is that I've been able to download video news podcasts. I can do my yoga routine watching Scott Pelley and Rachel Maddow. I find these small reminders of home comforting as well as keeping up with US news and political happenings.
The town was quiet and I slept well managing to get packed up by 7:15. Right outside the hotel a family worked a busy noodle stand. I had a bowl and then everyone watched as I loaded up the trike. I take this all for granted but it has got to be such a foreign sight for everyone here.
Even though the hotel was on the G213, I took my chances and went back to the Xiaomo Highway. There were many tunnels again today which greatly reduced all the climbing I would have to do riding the G213. There wasn't much traffic although I had a lot of scooter company. On downhills I would pass them since they were all coasting to save gas. Many people pulled over today to take my picture. One rest stop turned into a photoshoot as I attempted to answer questions. Luckily, a young guy spoke English and had studied in the US making the exercise easier.
The terrain went through lush jungle and banana fields. It was also hot which always slows me down. The morning was spent climbing and I took my time enjoying the ride. The descent started with a 1.5 mile long tunnel. The shorter tunnels have lights but these longer ones are totally dark. I took the lane to not run into any debris along the gutter. The rest of the ride was a gentle downhill. I had purchased snacks for the road and would eat a little everytime I took a break.
I pulled into Menglun in the early afternoon. There are some famous UNESCO blessed botanical gardens in the area which makes this town a tourist destination. Menglun is a good sized town with lots of hotels to choose from. I started making the rounds hoping to find one with wifi. It took awhile but I found a nice room and got checked-in for $22. They let me keep Myrtle in the very large lobby. I put the seat cover on to discourage people from sitting.
Once I got settled I walked around the town looking for dinner. This was a strange experience. I would look at what other people were eating pointing to some vegetables placing my order. The woman asked me to pick something else or atleast that's what I thought she meant. She spoke Chinese and I spoke primitive sign language. I took a seat at a table and was given my plate, bowl, serving spoon, tea cup and glass wrapped in clear plastic. I used a chop stick to break the plastic which made a very loud sound bringing unintented attention from everyone in the place. It took a long time to get my food and 3 vegetable dishes with a bowl of rice came to the table. It was difficult for me to say which one I hadn't ordered and I didn't say anything. Everything was delicious. The bill was a surprise though. $8 may not seem like a lot for 3 vegetable dishes but I was expecting the bill to be closer to $5. This wasn't exactly a restaurant but more of a stall that didn't have a door. I love eating at these places because the food is good and usually really cheap. I'm learning that I should negotiate a price for everything before I agree to proceed. What's really hard is all I'm doing is pointing to raw vegetables and I have no idea how they will be prepared and what is a fair price. I'm under the impression if I ask ahead of time they will offer a fairer price. Atleast if it is stated ahead of time I won't be surprised. Most places I've traveled in SE Asia include a higher price for foreigners but I've never found it to be such a big difference as it is here in China. After a long day biking my defenses are down and I don't always have the energy to haggle. I don't want to give my money away but perhaps it is also the price of travel?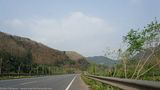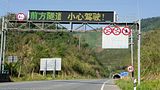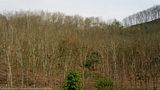 Lots of warning entering a tunnel.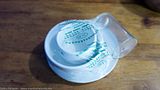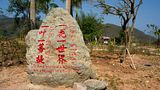 Plastic wrapped place setting.
Dai minority tribal woman walking to work in the banana fields.