<LINK REL="SHORTCUT ICON" HREF="http://www.sylviahalpern.com/public_html/favicon.ico">
My first night in China was very interesting. My hotel room came with a full desktop computer complete with a sound system. Surprisingly, the keyboard was western without Chinese characters. After I got checked in, I asked about wifi and they only had it for a fee. I couldn't get anywhere on the internet using the computer and wondered if it is set for Chinese sites only. The bathroom had a hot water shower and a squat toilet. It's been awhile since I've been in a real hotel that had a squat toilet.
I went out for food and to get a 3G SIM card for my wifi hotspot. It has been recommended to use China Mobile or Unicom services for more complete coverage. This town only has 2G and the nice young woman at China Mobile told me I should find 3G in Mengla which is my destination for tomorrow. I used my Google Nexus to locate wifi at another hotel. It was a small family run place and the front desk guy didn't hesitate to give me the password. I sat in the lobby for a good hour getting caught up and eagerly seeing if my v-p-n subscription would give me access to f_b. No problem and everything worked just as I had hoped.
As the sun was setting there were thousands of birds looking for a place to roost on the building next door. They were loud and flying chaotically all over. I think it took a couple of hours for all the birds to settle down. Then the fireworks started. It's the last day of the long Chinese New Year holiday and the fireworks went off in all parts of the city. The fireworks didn't go late and I still got to sleep at a reasonable hour.
In the morning I got packed up and brought my bags down the 5 flights of stairs. Everyone running the hotel was very excited that I was staying. Even though I don't speak Chinese and they didn't speak English their kindness and enthusiasm didn't need words. They helped me get the trike and my bags outside but then decided I should get some breakfast and brought my bags back inside until I returned. They pointed where I should go and I had a delicious bowl of noodle soup at a very busy stand. Then I went across the street to get some fruit for the road. Where ever I've been so far in China people are staring at me. I always smile and wave. Mostly I get a smile in return. I got back to the hotel and my bags were brought outside again. As I was loading up the trike a good crowd formed to watch what I was doing. Even though I don't know the Chinese I knew what they were asking. People always ask the same questions. Everyone wants to know my age, where I'm from, where I'm going and the cost of the trike. Sometimes I answer truthfully.
After a nice send off from the gathered crowd, I headed out for my first ride in China. I was super nervous and super excited. From looking at the map I knew there are 2 roads. One is the 'G213' highway and is a major road in yellow on the map. The other is a smaller road in grey. I wanted to take the grey road otherwise known as the Xiaomo Highway. There weren't any signs for either road and, somehow, I found the road I wanted to be on. It was terrific and smooth with a good, wide shoulder and wonderful scenery. The morning started off quite foggy but it burned off quickly. There were many ups and downs but nothing steep. I also went through a few tunnels. What is it with tunnels that they never have a shoulder? There wasn't much traffic and I was very happy with the days ride. I made it to Mengla in the early afternoon and started looking for a hotel. Usually I'm pretty good at spotting comfortable places but today it was elusive. My GPS sent me to hotels that I couldn't find. Maybe they were out of business or I didn't know what to look for. I wanted to stay at a nicer place and ease into my ride through China. I ended up at a brand new business hotel. The price, $45, was higher than I'm used to paying but I was ok with it. The room was gorgeous, huge and the wifi was strong. This was the nicest room I've had in a while. I went out to find the 3G SIM card and no-one was able to help me. No one has seen this wifi hotspot and it took awhile to explain what it is. I think I'm not quite in the heart of town. Everything is really new and there is a large government complex on a hill across from my hotel. A couple of people said I could find the SIM card I'm looking for 3 km up the road and I'll look for it in the morning. Having a wifi hotspot would be nice but I can do without it too.
I settled in for the evening to get the blog updated and make Skype calls to family. How about that? I've ridden a tricycle in China - woohoo!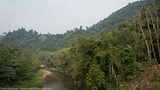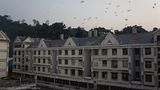 Morning sun burning off the fog.
Thousands of birds looking for a place to roost for the night.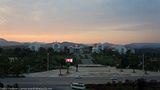 Government building across from my hotel.