<LINK REL="SHORTCUT ICON" HREF="http://www.sylviahalpern.com/public_html/favicon.ico">
Huay Xai is another sorry transit town. Everyone is trying to get somewhere else and no one wants to be there. Even the people who live there don't seem especially happy about it. I had a couple beers with a some young travelers who took getting drunk very seriously. I left at a reasonable hour and the large table was already completely filled with beer bottles. In the morning I saw them all again and they looked fresh and were already concerned about having enough beer for their boat ride down the Mekong. I stopped into a travel agency to see about getting a ticket for a bus to China. The woman said she could only get me 20 km from the border at an intersection of 2 highways. The bus leaves at 2 pm and I bought a ticket. She said to meet her at the travel agency at 1:30 but I would have to ride to the station and it shouldn't take me more than 15 minutes. I wasn't sure why I was meeting her if I was going to ride to the bus station but I said ok. I got packed up and waited for her at 1:30 but she didn't show. The route to the station was hilly and, of course, took longer than 15 minutes. I hate being late and I was kicking myself for not heading out sooner. The ticket I bought turned out to be for a local bus and it was packed. I couldn't imagine how they were going to get the trike on board. I took the bags off and folded it up hoping for the best The luggage handlers miraculously got everything on board. The bus was so packed many villagers sat on small plastic stools in the aisle. I took my seat next to a guy from Texas and we started off.
This route is through the mountains and is incredibly steep. There were many places where the bus had a tough time. The only way this route can be biked is with camping equipment. There are lots of small, very poor villages but no real accommodation options for over 100 kms. At one point plastic bags were handed out incase of motion sickness. Many people around me used their bag. Ever so often the bus would stop so a few people could go out and pee. There were other stops for drop off and pickups too. This was a very slow bus. By the time we got to the biggest town on the route it was dark and I decided to get off and find a guesthouse. There was no way I was going to ride into China after dark.
The bus station is 12 km outside of Luang Namtha. I wasn't crazy about the idea of riding into this town and then riding another 12 kms back out in the morning. Luckily, there were a couple of guesthouses across the street. Shawn, the guy from Texas, discovered that all tuk-tuks stop running after dark and also got a room. It was nice having company for dinner too.
In the morning, I looked at the map and saw that I could ride to China. I went to the bus station to see what was offered and met a delightful American family who live in Shangri-la. They were waiting to board a bus to Mengla. The man runs a bike touring company and agreed that I should be able to ride into China. So that was that, the decision was made and off I went.
It was about 20 miles to the junction I originally bought my bus ticket for and the route was hilly but nothing too steep. Boy was I glad I decided to get off in Luang Namtha yesterday. There wasn't a hotel or anything here but a few roadside food venders. I passed many small villages and enjoyed the interaction with the locals. Laos is a sleepy place. The roads are in good shape and it's quiet. People are always yelling out 'Sabaidee' instead of 'Hello' which I really love.
It looks like big things are about the happen in this area. A new bridge is expected to be finished in another 6 months where I took the ferry across from Thailand. This road is really a highway to get goods from China to Thailand. When that bridge is finished I bet the traffic will really increase. I wouldn't be surprised to learn that China built this highway.
I turned up the road to China and was at the border within an hour. Wow was this exciting. I have wanted to cycle in China for a few years and today was the day. The immigration process was easy. I got my stamp and then I crossed the border. I'm used to border crossing being chaotic but this was orderly and the town of Mohan is very calm. Earlier in the day a group of motor bikers had passed me. I met up with them again at a cafe and they invited me for lunch. The food was terrific and it felt like a wonderful entrance to China.
I left them and found a hotel. No one spoke English but they were very excited to have me stay. The hotel was family run and everyone helped me get Myrtle inside and my bags to the room which I got checked into for $12. I've already met a number of people who speak at least some English which has set my mind at ease. I've also noticed that they use western numbers which will really help.
It also feels like this is where the trip is really going to be interesting. Wow - welcome to China!!
Luang Namtha, Laos to Mohan, China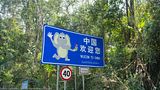 Laos kids running after me.
I have no idea what this sign means.
Unopened Laos border building.